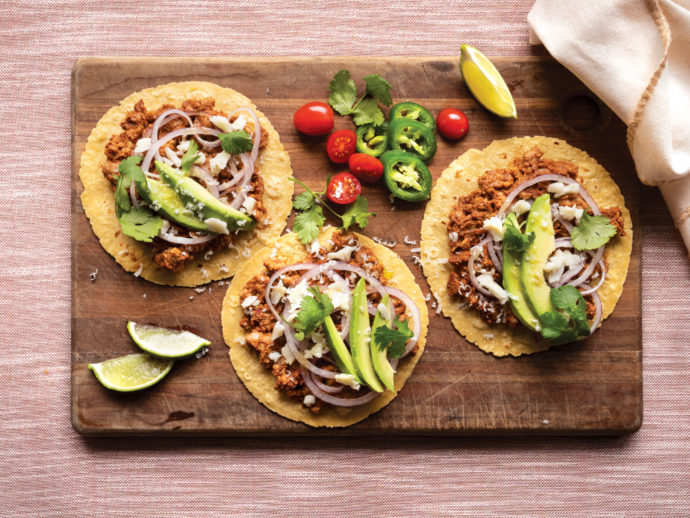 Two of Mexico's greatest culinary exports, mole and tacos, come together in a festival of flavour and texture. Tempeh provides a plant-based meaty taco filling. Beer is an unconventional mole ingredient, but along with chocolate, it makes a nice bittersweet companion for the chilies. If Mexican-style cheeses are not available, you can use crumbled feta or dollops of sour cream.
Ingredients
2 dried ancho chili peppers
3/4 cup (180 mL) canned diced tomatoes
1/2 cup (125 mL) dark beer
2 garlic cloves, chopped
2 Tbsp (30 mL) unsalted roasted almonds
1 Tbsp (15 mL) sesame seeds
2 Tbsp (30 mL) raisins
1 Tbsp (15 mL) fresh oregano or 1 tsp (5 mL) dried oregano
1/2 tsp (2 mL) salt
1/4 tsp (1 mL) cinnamon
1/8 tsp (0.5 mL) allspice
1/2 oz (14 g) grated dark chocolate
2 – 7 oz (200 g) packages tempeh, crumbled
8 organic corn tortillas, warmed
1 avocado, cubed
1/3 cup (80 mL) thinly sliced or diced red onion
2 oz (56 g) Cotija or queso cheese, crumbled
1/4 cup (60 mL) cilantro
1 lime, sliced into wedges
In heavy-duty dry skillet, toast chili peppers over medium-high heat until darkened, flipping once, about 1 minute per side. Place chilies in bowl, cover with warm water, and soak for 30 minutes. Take chilies out of bowl and slice off stems.
In blender container, place drained chili peppers, 1/4 cup (60 mL) soaking water, tomatoes, beer, garlic, almonds, sesame seeds, raisins, oregano, salt, cinnamon, and allspice and blend until smooth.
Place sauce in saucepan and bring to a gentle simmer. Stir in chocolate until melted. Add tempeh and heat over low for 10 minutes, stirring frequently.
To assemble tacos, place tempeh mole on tortillas and top with avocado, onion, cheese, and cilantro. Squirt on lime juice.
Serves 4.