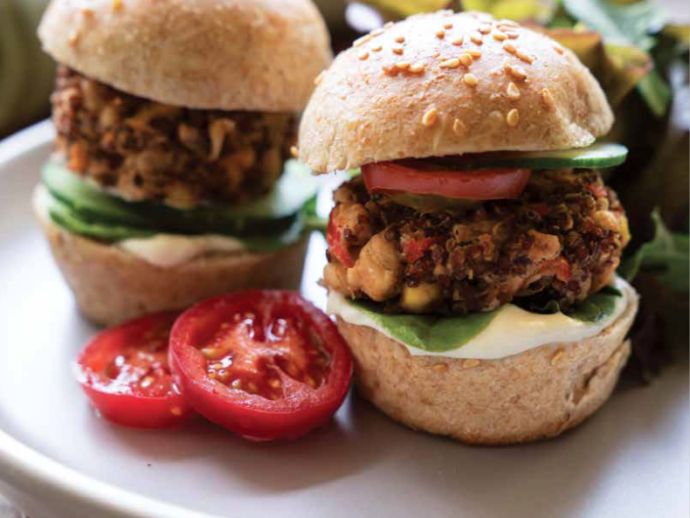 These tasty bites are the perfect antidote to a fussy eater with a small appetite. Our Veggie Sliders are packed so full of flavour and heat they'll make taste buds pop! And don't forget to add your favourite toppings for added eye and flavour appeal.
1/2 cup (125 mL) raw millet
1 cup (250 mL) water
1 garlic clove, smashed and minced
2 tsp (10 mL) minced fresh oregano, divided
14 oz (398 mL) can white navy beans, rinsed and drained
1 small organic egg, whisked
1/2 cup (125 mL) frozen corn niblets, thawed and drained
1/2 red bell pepper, finely diced
1/4 red onion, finely diced
Zest from 1/2 lemon
1/4 cup (60 mL) coarse oat flour
1 tsp (5 mL) smoked paprika
1/2 tsp (2 mL) ground chipotle pepper
1/2 tsp (2 mL) sea salt
8 mini brioche buns (optional)
Toppings (optional): sliced cherry tomatoes, smashed avocado, butter lettuce, hummus, hot sauce, flaked salt, and/or mayonnaise
In small, dry saucepan, toast raw millet over medium heat for 2 minutes, until it turns a rich golden colour. Stir often. Be careful not to let it burn. Slowly add water, being careful not to let it sputter. Stir in garlic and half the oregano. Cover, reduce heat, and simmer for 15 minutes. Add a splash more water if millet begins to stick. Avoid stirring too much or it will become mushy. After 15 minutes, remove from heat and set aside, covered, for another 10 minutes.
While millet cooks, prepare remaining patty ingredients.
In large bowl, place 3/4 of the drained white beans, reserving the remaining 1/4. Mash with fork until almost creamy but still a little chunky. Add remaining patty ingredients plus remaining oregano. Stir together until lightly mixed. Then add cooked millet and fold together. You might need to use your hands. When all ingredients are evenly mixed, add remaining 1/4 white beans and gently fold in. You want mixture to be chunky with whole beans in the mix. Add more spices, salt, and pepper to taste, if you wish.
Line baking sheet with parchment. To shape sliders, use 1/4 cup (60 mL) measure to divide mixture into 8 even-sized balls. Roll in your palms and then slightly flatten into patties about 2 in (5 cm) diameter and 1/2 in (1.25 cm) thick. Overwrap with foil or plastic and refrigerate (or freeze) until ready to bake or fry.
When ready to cook, thaw patties, if frozen. Preheat oven to 375 F (190 C). Once fully thawed at room temperature, bake in preheated oven for 30 minutes, flipping patties halfway through baking.
Alternatively, pan fry by heating 1 Tbsp (15 mL) olive oil in large frying pan and cooking patties over medium heat for 5 minutes per side.
Serve on mini buns with optional toppings. They are delicious with an arugula chopped salad on the side.
Makes 8 sliders.