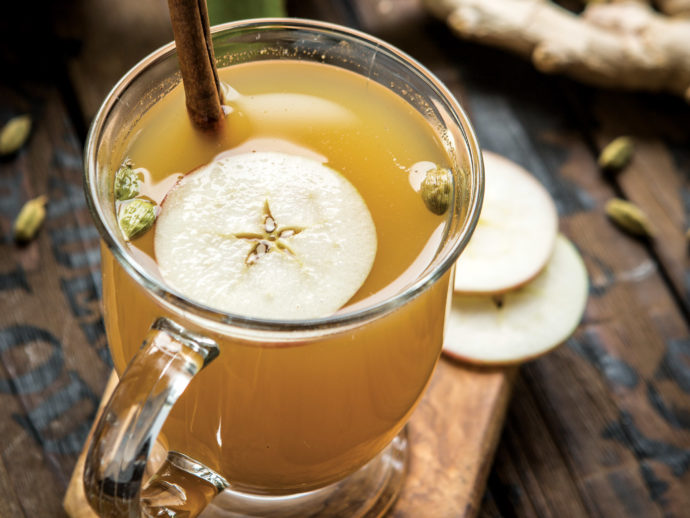 This warming beverage is made with real apple juice heated with powdered ginger, cinnamon, and cardamom. Consumption of real apple juice has been linked with a reduced risk of cancer, cardiovascular disease, and diabetes. Ginger helps promote digestive and cardiovascular health, and is useful in the treatment of degenerative disorders, diabetes, and cancer. Cinnamon has been shown to improve insulin sensitivity, while cardamom improves digestion.
TIP: If you have whole spices on hand, you can swap powdered spices for a slice of fresh ginger, 1 cinnamon stick, and 3 crushed cardamom pods.
Ingredients
2 cups (500 mL) apple juice
1/2 tsp (2 mL) ground ginger
1/4 tsp (1 mL) cinnamon
1/4 tsp (1 mL) cardamom
Directions
In small saucepan, combine all ingredients and stir to combine. Bring to a low simmer and remove from heat.
Nutritional Information
Each serving contains: 117 calories; 0 g protein; 0 g total fat (0 g sat. fat, 0 g trans fat); 29 g total carbohydrates (24 g sugars, 1 g fibre); 10 mg sodium