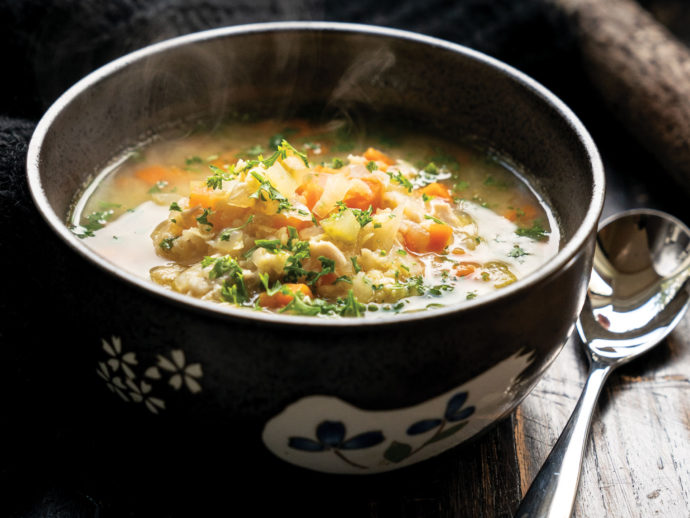 Chicken soup is comfort in a bowl. And making it from scratch gives your broth oodles of healthy bone nutrients. Coupled with white lentils, it's meal-worthy. Store in the freezer in handy single-serve containers for lunches or for giving when someone you know needs a hug.
Ingredients
Stock
1 whole organic chicken, about 3 lbs (1.5 kg) or 2 large chicken breasts and 2 chicken legs
3 sprigs each of fresh parsley, thyme, and sage
2 bay leaves
1/4 tsp (1 mL) black peppercorns
1/4 tsp (1 mL) sea salt
Soup
2 large carrots
2 celery stalks
1 large sweet onion
2 garlic cloves, minced (optional)
2 Tbsp (30 mL) extra-virgin olive oil
1 cup (250 mL) white lentils or white split urad dal
1/4 cup (60 mL) white miso
2 Tbsp (30 mL) fresh lemon juice
1/3 cup (80 mL) minced parsley
Directions
To make stock, cut up chicken into thighs, breasts, wings, and back; remove as much of the skin as you can and discard. Or if using chicken pieces, tear off as much skin as you are able.
In very large stockpot, place chicken pieces and cover with about 14 cups (3.5 L) water. Add herbs and bay leaves, peppercorns, and salt. Bring to a gentle boil and skim off any scum. Reduce heat and cover with lid ajar. Simmer gently for 2 hours.
Remove chicken pieces to a large bowl and set aside until cool enough to handle. Then remove meat from bones and shred, discarding bones. Refrigerate meat, covered. Strain chicken stock into large bowl and refrigerate stock until chilled. Once stock has chilled, preferably overnight, remove firmed fat layer, if any, and discard. You should have at least 10 cups (2.5 L) stock.
For soup, finely dice carrots, celery, and onion. In large 3 L stockpot, heat oil. Add carrot, celery, onion, and garlic, if using, and sauté until soft, about 3 to 5 minutes. Do not brown. Thoroughly rinse and drain lentils. Add to carrots and stir in to coat with oil. Add prepared stock and miso and bring to a gentle boil. Cover with lid slightly ajar and simmer for 35 minutes or until lentils are creamy soft.
For a little more body or a creamier soup texture, remove a couple cups of soup and purée. Return to the pot. Alternatively, if you have a handheld blender, pop into soup and whirl briefly.
Stir in 1 1/2 cups (350 mL) shredded chicken meat, reserving the remaining for another dish. Bring to a gentle boil. Reduce heat and simmer until soup is piping hot. Add salt and pepper to taste. Stir in lemon juice and parsley before serving.
Makes about 12 cups (3 L).
Nutritional information
Each 3/4 cup (180 mL) serving contains: 132 calories; 13 g protein; 4 g total fat (0 g sat. fat, 0 g trans fat); 10 g total carbohydrates (2 g sugars, 2 g fibre); 233 mg sodium
Tips
Switch out white lentils for red, beluga, or French lentils, if you wish. Jazz it up with a little fresh kale stirred in.
If time is not on your side, use prepared low-sodium chicken stock. Add 3/4 lb (350 g) boneless, skinless chicken pieces along with lentils and simmer until both are cooked. Remove chicken and shred. Return to stock and stir in parsley and serve.