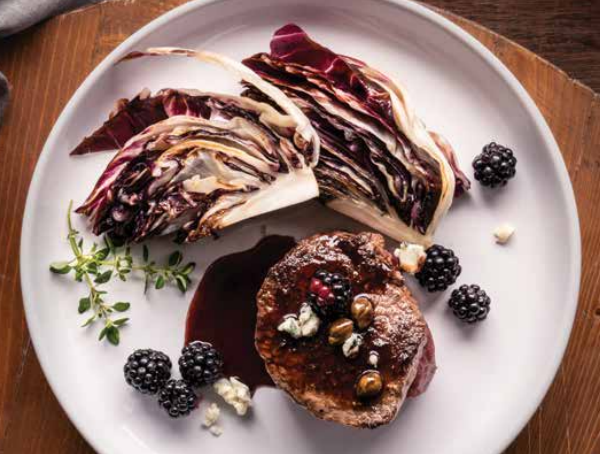 Elk may not be on everyone's shopping list. But maybe it should be. It's low in fat and extremely nutrient rich. That's not its only virtue: it contains nearly 20 g protein per 3 oz (85 g) portion! This delicious dinner is ready in three simple, short steps. The trick is to sear, grill, or broil the medallions and not overcook them.
2 – 3 oz (85 g) elk medallions, each about 1 1/2 in (3.75 cm) thick
1/4 tsp (1 mL) sea salt
1/4 tsp (1 mL) freshly ground black pepper
1 Tbsp (15 mL) grapeseed oil
3 Tbsp (45 mL) chilled unsalted butter, diced, divided
1/4 cup (60 mL) dry red wine
1/4 cup (60 mL) blackberry ginger-flavoured balsamic vinegar
1 Tbsp (15 mL) hot horseradish
1 Tbsp (15 mL) blackberry, cherry, or plum preserves
1 sprig fresh thyme, plus extra for garnish
1/2 tsp (2 mL) capers, drained and rinsed
1 medium-sized radicchio, cut into 4 wedges
1 Tbsp (15 mL) crumbled blue cheese
Season elk medallions with salt and pepper. Heat small, heavy skillet over medium-high heat. When piping hot, add oil and 1 Tbsp (15 mL) butter until it sizzles. Add medallions and sear over medium-high heat for 1 to 2 minutes on each side, until nicely browned and internal temperature reaches 125 F (52 C). Remove from skillet to a plate and cover with foil to keep warm.
To the heated skillet, add red wine, balsamic, horseradish, preserves, and thyme sprig. Cook over medium-high heat until sauce is reduced by half, about 3 minutes. Remove woody thyme stem. Whisk in 1 Tbsp (15 mL) butter into sauce. Stir in capers. Cover and set aside.
To a fresh skillet, add the last 1 Tbsp (15 mL) butter. When it sizzles, add radicchio wedges and sear cut sides just until edges begin to crisp.
To serve, thinly slice elk medallions and divide between 2 serving plates. Tuck a couple of wedges of seared radicchio alongside medallions and drizzle with sauce. Season with extra salt and pepper to taste, if you wish. Scatter crumbled blue cheese on top. Garnish with fresh thyme. Delicious with whipped potatoes.
Serves 2.
Each serving contains: 475 calories; 29 g protein; 29 g total fat (14 g sat. fat, 0 g trans fat); 18 g total carbohydrates (11 g sugars, 1 g fibre); 475 mg sodium