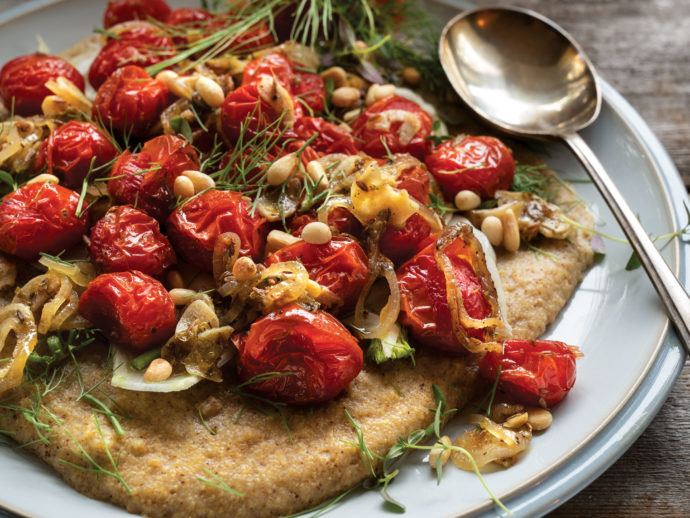 This delicious plate was adapted from an Ottolenghi (Yotam Ottolenghi—UK chef and cookbook author) recipe. Rather than serving blistered tomatoes on yogurt, we jazzed it up on a bed of warm, creamy polenta. The crisp raw fennel adds a delightful crunch along with toasted pine nuts. Serve as an appetizer, starter, or main course with crusty bread or toast points.
Roasted tomatoes
3 cups (750 mL) cherry tomatoes
3 Tbsp (45 mL) extra-virgin olive oil
1 medium-sized shallot, peeled and shaved thinly into slices
4 large garlic cloves, peeled and thinly shaved into slices
4 sprigs fresh thyme, or 1 tsp (5 mL) dried
3 sprigs fresh oregano, or 1/2 tsp (2 mL) dried
1 tsp (5 mL) raw sugar
1 tsp (5 mL) cumin seeds
Finely grated zest from 1 lemon
1/4 tsp (1 mL) sea salt
1/4 tsp (1 mL) freshly ground black pepper
Creamy polenta
3 cups (750 mL) water
1 cup (250 mL) nondairy milk
1 cup (250 mL) medium-coarse cornmeal
1/4 cup (60 mL) nutritional yeast
2 Tbsp (30 mL) cricket powder
1/2 small fennel bulb, very thinly shaved on a mandoline, reserving fronds
1 Tbsp (15 mL) good quality extra-virgin olive oil
1/4 cup (60 mL) pine nuts, toasted
Preheat oven to 425 F (220 C).
In large bowl, combine tomatoes and drizzle with olive oil, sliced shallots, garlic, thyme, oregano, sugar, cumin, lemon zest, salt, and pepper. Toss together to coat evenly. Place on baking sheet just large enough to fit tomatoes snugly in a single layer, scraping any remaining spices and herbs from bowl on top. Bake in centre of oven for 20 to 25 minutes, or until they begin to blister. Stir occasionally. Remove when tomatoes are as done as you like. Remove stems from herbs and discard.
Meanwhile, in large saucepan, heat water and nondairy milk to boiling. Slowly whisk in cornmeal, nutritional yeast, and cricket powder until fully mixed. Reduce heat to medium-low and cook, whisking constantly, until polenta is slightly thickened, about 2 to 3 minutes. Cover and let simmer for 25 to 30 minutes, stirring every 5 minutes to ensure polenta is not sticking to bottom of saucepan and to prevent it from clumping. Mixture should be gently bubbling and creamy, and gently fall from the stirring spoon in ribbons.
Transfer polenta to warmed large platter and spread out with the back of a spoon. Scatter with shaved fennel. Tumble roasted tomatoes and their juices overtop. Drizzle with oil. Scatter with pine nuts, and garnish with fennel fronds.
Each serving contains: 266 calories; 10 g protein; 15 g total fat (2 g sat. fat, 0 g trans fat); 27 g total carbohydrates (7 g sugars, 5 g fibre); 140 mg sodium
---
Tip: Hop up to the counter and take this recipe to a new level by replacing toasted pine nuts with crispy, roasted crickets as a nutty addition.