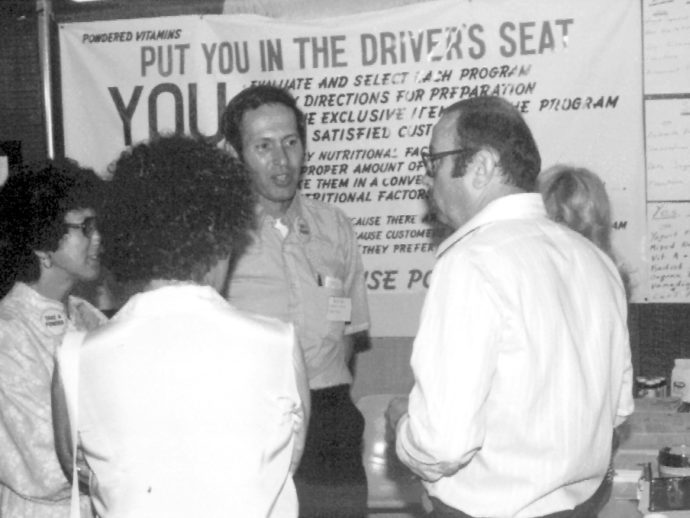 It is with great sadness that we inform you of the passing of Elwood Richard, founder of NOW Foods, after a lengthy battle with cancer. Mr. Richard will be remembered for his significant contribution to the health food channel as well as his love, generosity, and kindness that touched the lives of everyone at NOW.
Elwood's introduction to natural foods began nearly 20 years before he founded NOW Foods in 1968, when his father Paul Richard bought Fearn Soya and developed the industry's first protein supplement product.
In 1960, Elwood, with a bachelor of science degree in chemistry from Monmouth University and graduate studies in physical chemistry and biochemistry at Indiana University, stepped in to run Fearn after his father's death, with input from his brothers Bill and Lou.
In 1962, Elwood opened his first natural health food store, the Health House, and today the suburban Chicago retail chain, renamed The Fruitful Yield, operates 13 stores. In 1968, Elwood founded NOW Foods. His brother Lou would later join the company full time, and he and Elwood together worked to start the NNFA (NPA) Standards Committee.
Elwood led NOW through decades of growth, expanding product lines and manufacturing facilities, yet never wavered from his original belief that good health should be available to everyone, not just the affluent. He also ensured that the company's mission of empowering people to lead healthier lives would never be compromised by short-term profit demands. Through his legacy planning and gifting of shares to family members, NOW currently has about 40 Richard family member owners and is well positioned for future generations.
When Elwood retired as CEO in 2005, succeeded by long-time NOW employee Al Powers, he stayed very much involved in the business and the industry as NOW Board of Directors Chair, and a member of the NOW Advocacy Team, the NOW Strategy Team and the NOW Environmental Team.
Elwood was also on the Managing Board of the Natural Health Research Institute, an organization he founded that is committed to informing consumers, scientists, the media, policymakers, and legislators about scientific evidence on the usefulness and cost-effectiveness of diet, supplements, and a healthy lifestyle to improve health and wellness.
"His passion in defending consumer choice in the industry with logic and with scientific knowledge he had as a physical chemist came through many, many times," says NOW CEO Jim Emme. "One of the legacies he left is the Golden Rule: treating others as you want to be treated. He lived that every day that I knew him."
"El was a truly great man and a great entrepreneur.  He was always passionate about the health food industry, and the success of the NOW brand is a testimony to his vision, leadership, and dedication to our mission and our industry," says former NOW CEO Al Powers. "He will always be remembered for his love, generosity, and kindness that touched the lives of everyone at NOW.  He was the heart and soul of NOW Foods."
Elwood Richard was honored by the industry he served for so many decades with numerous awards, including induction into the New Hope Hall of Legends, the Natural Products Association (NPA) Lifetime Achievement Award, the Nutrition Business Journal's Lifetime Achievement Award, the NNFA Crusader Award, and most recently the American Herbal Products Association (AHPA) Visionary Award.
Elwood is survived by his wife Betty, daughter Sharon (Richard) Wong, and sons Dan and David.