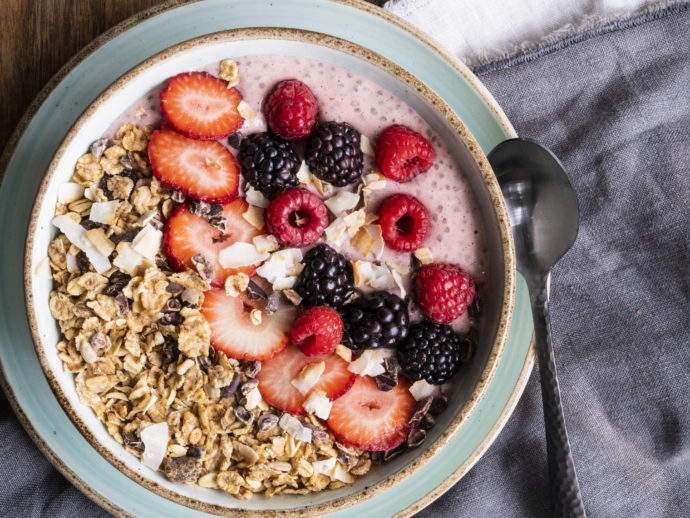 This make-ahead breakfast option takes the woulda-coulda-shoulda out of eating a nourishing breakfast. The tag team of deliciously thick skyr yogurt and protein powder make each spoonful a protein heavyweight. Besides being ultra-nutritious (hello, fibre and healthy fats), chia seeds have the remarkable ability to soak up great amounts of liquid, leaving you with a spoon-worthy tapioca-like consistency. If skyr yogurt is not available, Greek is a good substitute. The berry chia pudding and toppings can also be placed in a wide-mouth jar with a tight-fitting lid for a high-protein breakfast on the go.
1/3 cup (80 mL) milk or unsweetened dairy-free milk of choice
1 cup (250 mL) plain skyr yogurt
1 1/2 cups (350 mL) fresh or frozen (thawed) strawberries, plus more for topping
1/4 cup (60 mL) plain or vanilla protein powder of choice
2 tsp (10 mL) honey
1 tsp (5 mL) lemon zest or orange zest
1/2 tsp (2 mL) vanilla extract (omit if using vanilla protein)
1/2 tsp (2 mL) cinnamon
1/2 tsp (2 mL) ground ginger (optional)
6 Tbsp (80 mL) chia seeds
2/3 cup (160 mL) muesli
4 Tbsp (60 mL) cacao nibs (optional)
In blender container, place milk, yogurt, strawberries, protein powder, honey, lemon zest or orange zest, vanilla (if using), cinnamon, ginger (if using), and a pinch of salt, and blend until smooth.
Divide mixture between 2 cereal bowls and stir 3 Tbsp (45 mL) chia seeds into each bowl. Chill bowls overnight to thicken.
When ready to serve, top each bowl with an equal amount of muesli, fresh berries, and cacao nibs, if using.
Each serving contains: 425 calories; 30 g protein; 11 g total fat (2 g sat. fat, 0 g trans fat); 60 g total carbohydrates (25 g sugars, 16 g fibre); 140 mg sodium