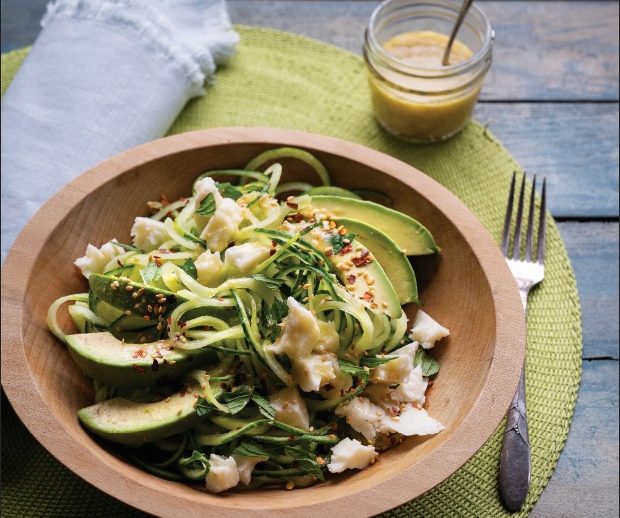 Forget boiling a pot of water. Strips of thinly shaved cucumber are a refreshing, no-cook base for a lean, green pasta salad alternative. Salty halloumi (or you could use feta), creamy avocado, and a vibrant miso-lemon dressing add heft and assertive flavour to this summery side dish.
1 English cucumber, cold
1 large or 2 small avocados, cold
100 g halloumi or feta, sliced, cubed, or crumbled, cold
1/2 tsp (2 mL) grated fresh ginger
2 Tbsp (30 mL) lemon juice
2 Tbsp (30 mL) extra-virgin olive oil
1 Tbsp (15 mL) sweet white miso paste
2 Tbsp (30 mL) finely chopped parsley or mint
1 Tbsp (15 mL) sesame seeds
1/4 tsp (1 mL) chili flakes or Aleppo-style pepper
For salad, using spiral slicer or vegetable peeler, spiral slice or peel cucumber lengthwise into long noodles, and then add to serving platter. Peel and slice avocado into wedges, and then nestle into noodles, along with halloumi or feta.
For dressing, whisk to combine ginger, lemon juice, oil, and miso. Drizzle dressing evenly over salad, garnish with parsley or mint, sesame seeds, and chili flakes or Aleppo-style pepper. Serve immediately.
Serves 4.
Each serving contains: 247 calories; 6 g protein; 21 g total fat (6 g sat. fat, 0 g trans fat); 11 g total carbohydrates (3 g sugars, 5 g fibre); 548 mg sodium