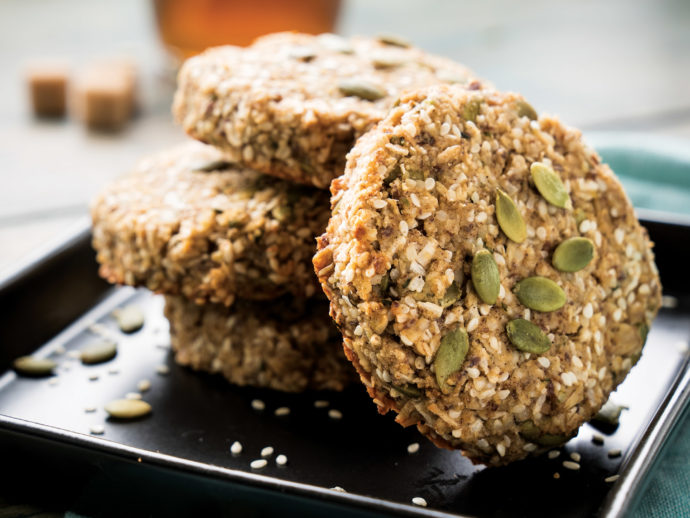 These are the perfect grab-and-go breakfast, on-the-run snack, or post-workout nosh. This recipe makes a lot of large cookies, but fear not, they freeze beautifully. This means they'll be close at hand when a cookie craving strikes.
Tip
To make these cookies even more indulgent, try adding a handful of vegan mini chocolate chips.
Ingredients
2 cups (500 mL) gluten-free rolled oats
3/4 cup (180 mL) almond flour
1/2 cup (125 mL) quinoa flour
1/4 cup (60 mL) ground flaxseed
1 tsp (5 mL) cinnamon
1/2 tsp (2 mL) baking soda
1/2 tsp (2 mL) salt
1/2 cup (125 mL) hemp hearts
1/2 cup (125 mL) raw sesame seeds
1/2 cup (125 mL) raw pumpkin seeds
1/2 cup (125 mL) toasted unsweetened shredded coconut
1 cup (250 mL) unsweetened applesauce
1/4 cup (60 mL) maple syrup
1/4 cup (60 mL) melted coconut oil
1/4 cup (60 mL) unsweetened almond milk or other nondairy milk
1 1/2 tsp (7 mL) vanilla extract
Directions
Preheat oven to 350 F (180 C). Line baking tray with parchment paper and set aside.
In large bowl, whisk together oats, almond flour, quinoa flour, ground flaxseed, cinnamon, baking soda, salt, hemp hearts, sesame seeds, pumpkin seeds, and toasted coconut.
In another bowl, whisk together applesauce, maple syrup, coconut oil, milk, and vanilla extract until well combined. Add wet mixture to dry mixture and, with wooden spoon or spatula, stir to combine.
Place 1/4 cup (60 mL) balls of cookie dough onto prepared baking tray and, with wet hands, press down to flatten slightly. Cookies will not spread while baking, so there's no need to leave much room between each one. Bake until lightly browned, 18 to 20 minutes. Allow to cool completely on baking tray before transferring cookies to airtight container. Cookies will keep refrigerated for up to 4 days and can be individually wrapped and stored in the freezer for up to 1 month.
Nutritional information
Each cookie contains: 249 calories; 8 g protein; 17 g total fat (5 g sat. fat, 0 g trans fat); 19 g total carbohydrates (5 g sugars, 4 g fibre); 46 mg sodium