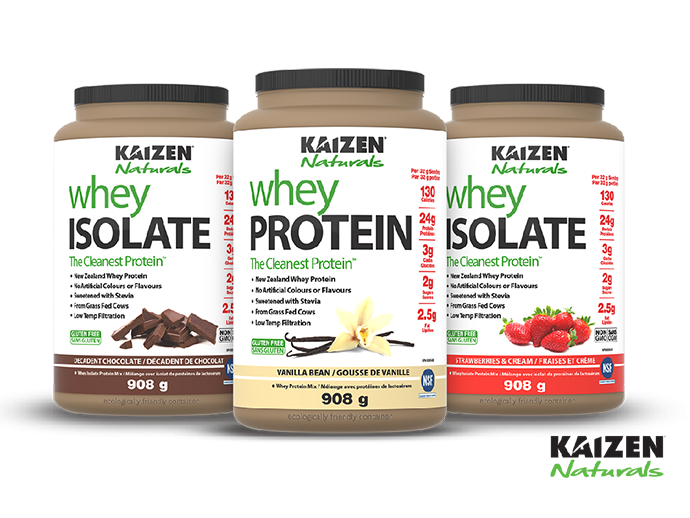 Wouldn't it be nice if protein supplements had trust levels clearly marked on their packaging? If Brand X had 100% trust—meaning it was trusted to deliver 100% of what's written on its label 100% of the time and 0% of anything else—but Brand Y could only be trusted 89%, it would probably make choosing which brand to stock a whole lot easier. Well, as it turns out, something like this does exist.
It's called NSF Certification, and it's something Kaizen Naturals knows all about; in 2015, they received the coveted stamp of approval after a rigorous process that took their manufacturing company, The Winning Combination, over two years to achieve. The NSF, or National Sanitation Foundation, is a non-biased, third-party that also happens to be one of the most respected independent certification organizations in existence today.
DOING BUSINESS DIFFERENTLY
Earning NSF certification ensures Kaizen Naturals is produced to be completely compliant with Good Manufacturing Practices (GMP), which means all the proper methods, equipment, facilities, and controls are in place for producing dietary supplement products. NSF certification also guarantees Kaizen's label claims to be true and that their proteins are free from masking agents.
While this might sound like something every supplement manufacturer should have, the NSF stamp of approval is actually the gold standard for third-party verification, testing, and certification. In fact, less than 1% of Canadian sports nutrition companies are NSF certified.
According to Kaizen, their motto of "constant never ending improvement" inspired them to seek certification and continue to cultivate consumer trust. And they've succeeded—in no small part because of their extremely thorough and thoughtful approach to protein supplements.
THEY CALL THEM "NATURALS" FOR A REASON
Kaizen Naturals takes their name seriously. Their products contain no artificial flavours, colours, or sweeteners and they're also gluten free. No additional sugars are added during the process. Instead, Kaizen uses stevia, the very popular and 100% natural, calorie-free sugar substitute.
Their dedication to staying natural even extends to their environmentally friendly packaging and labels, made from post-consumer recycled plastic (PCR), Forest Stewardship Council (FSC)-certified wood from responsibly managed forests, and printed with ink made from soy.
STAYING IN CONTROL EVERY EVERY STEP OF THE WAY
Another reason why Kaizen achieved NSF certification (and why customers are increasingly choosing Kaizen) is because of how their manufacturing company, The Winning Combination, has gone out of its way to control the sourcing and processing of their ingredients, investing a great deal of time, effort, and financial investment into always maintaining control.
"Less than 1% of Canadian sports nutrition companies are NSF certified."
According to Shazad Buhkari, CEO of The Winning Combination, they're able to source and trace every single ingredient that makes it into a Kaizen package. They're also able to keep a close eye through the entire manufacturing process because, unlike many of their competitors, they built their own state of the art in-house facilities—located in Winnipeg, Manitoba—rather than contract out, which means they're able to be far more vigilant with their practices and have closer connections with their suppliers.
WHAT YOU SEE IS WHAT YOU GET
On top of selling high-quality protein, Kaizen is aiming to give peace of mind to their customers, from elite athletes to the everyday shopper, assuring them that they're getting exactly what they pay for. Ultimately, Kaizen's efforts to maintain quality are strengthening, and in some cases repairing, consumer trust in protein supplements. At a time when consumers can be wary of even the biggest brand names, Kaizen is investing heavily in making sure their label tells the whole story.
And they've chosen an extremely challenging yet rewarding strategy to get there, obtaining outside certification through NSF to back up a responsible approach to producing protein supplements. And as more people see protein powders as a way to achieve a healthier lifestyle, Kaizen is putting in the extra effort  to make a positive impression, winning the trust of new consumers while delivering trusted results to health aficionados.
And it all comes down to reading a label and knowing it to be true. In other words, 100% trust, 100% of the time.