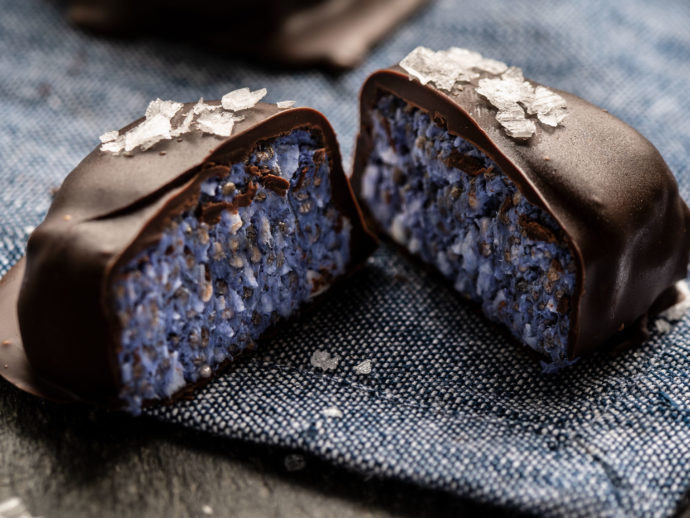 If you're up to speed on the latest food trends, you might have heard of this gorgeous indigo matcha.   It's actually not related to green matcha at all; it hails from the butterfly pea flower—a completely different plant (see tip below). It doesn't have quite the same benefits as green matcha. Nor does it contain caffeine. Take a nibble of one of these chocolates, though, and you'll pop open a beautiful blue filling. Pure calm.
Ingredients
1 cup (250 mL) 11% fat plain yogurt
1/2 cup (125 mL) chia seeds
1/4 cup (60 mL) unsweetened medium shredded coconut
2 Tbsp (30 mL) honey or agave
1 Tbsp (15 mL) blue matcha powder (see Tip)
4 oz (125 g) dark chocolate
1 Tbsp (15 mL) coconut oil
Dried butterfly pea flowers, cornflower petals, flaked salt, or blue matcha powder for garnish, optional
Directions
Using a 9 in (23 cm) loaf pan, grease with coconut oil and line with parchment paper so that it overlaps the ends.
In large bowl, combine yogurt, chia seeds, coconut, honey, and blue matcha. Stir together until evenly blended and smooth. Spread out in a single layer in prepared pan and smooth surface. Freeze until firm, about 30 minutes. Using overlapped paper as handles, remove hardened yogurt mixture and lift out of pan. Place on a cutting board and cut into 3 strips lengthwise. Then cut each strip into 9 pieces. You should have about 27 squares.
Cut chocolate into small uniform pieces. Place in top of double boiler with coconut oil and slowly heat over simmering water, making sure bottom of pot containing chocolate and coconut oil isn't touching the water. Continue to stir over simmering water until melted and smooth. Remove from heat. Be careful not to let one drop of water touch melted chocolate as it will spoil.
Using a couple of skewers, dip chia squares into chocolate and place on parchment-lined baking sheet. Repeat with all the squares, placing them at least 1 in (2.5 cm) apart. Garnish as you wish: sprinkled with dried butterfly pea petals, dried cornflower petals, flaked salt, or additional matcha powder. Refrigerate tray until chocolate is firm. Transfer to a tightly sealed container and refrigerate until ready to eat. Can be stored for up to a week.
Each chocolate contains: 62 calories; 1 g protein; 4 g total fat; (2 g sat. fat, 0 g trans fat); 5 g total carbohydrates (3 g sugars, 2 g fibre); 7 mg sodium
Tips
Butterfly pea flower is a beautiful blue flower that's dried and ground and added to various recipes, providing a unique brilliant blue colour. It's available in some specialty gourmet food shops and online.
To melt chocolate, it's important to have it all chopped into equally sized small pieces so it melts evenly. Melting slowly is the key to ending up with shiny chocolate when it hardens.
Blue matcha powder can be ordered online, but feel free to substitute with green matcha powder, if you wish.
Making chocolate is easy with small square silicone forms. Just add a little melted chocolate into the base of each cup and place a square of filling on top. Drizzle with a little more chocolate to fully coat. Garnish and refrigerate until firm. Easy to pop out, and the chocolates turn out perfectly square every time.