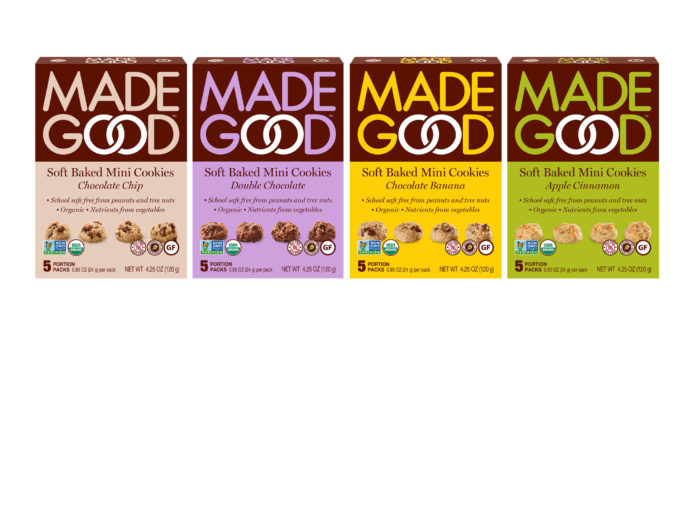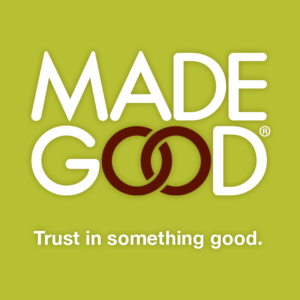 April 2018 – MadeGood®, the leading allergy-friendly and nutrient-rich granola snack creators, launches not one but two new product lines, Soft Baked Mini Cookies and Crispy Light Granola. These delicious snacks and cereals are tasty additions to the MadeGood line of school-safe products that include granola bars, granola minis, and crispy squares. Indulge and celebrate in the newest MadeGood products that are not only school safe, but also gluten free, certified vegan, organic, non-GMO, and kosher parve. Plus, they contain a full serving of vegetables.
"MadeGood is thrilled to once again expand the availability of innovative snacks that serve society's desire for healthy and allergy-friendly products that everyone can enjoy," says Nima Fotovat, president of Riverside Natural Foods, manufacturer of MadeGood. "We're excited and proud to be entering new product categories, offering consumers healthier alternatives to traditional cookies and granola that are not only nutritious, but delicious!"
New Soft Baked Mini Cookies are the ideal addition to the line of nutritious MadeGood snacks that are perfect for snack time and school-safe lunches. These deliciously soft and chewy cookies, available in Chocolate Chip, Chocolate Banana, Apple Cinnamon, and Double Chocolate flavours, will leave you satisfied without the guilt. With the simple goodness of granola and the light, crisp texture of cereal, Crispy Light Granola can be enjoyed with milk or yogurt at breakfast or snack time. Simple, minimally processed organic ingredients are combined with the nutrients of vegetables for a delicious, allergy-friendly, and school-safe cereal alternative with four flavours to choose from: Chocolate Banana, Apple Cinnamon, Strawberry, and Cocoa Crunch.
Fotovat adds, "MadeGood's delicious offerings continue to grow beyond the specialty and snack aisles, but with every new product line our quality remains the same with an allergy-friendly and nutritious focus that does not compromise taste."
All MadeGood products are produced in a dedicated facility free from common allergens: peanuts, tree nuts, wheat, dairy, egg, soy, sesame, fish, and shellfish. They are available at major grocery outlets and natural food stores across the country, including Loblaws, Metro, Whole Foods, Walmart, and Sobeys, as well as online through Amazon, Well.ca, and Walmart.ca. MadeGood's Crispy Light Granola and Soft Baked Mini Cookies are hitting store shelves in summer 2018, just in time for summer snacking and back to school.
For more information about MadeGood products, visit madegoodfoods.com.
Media contact: Shari Cogan, CoganPR, at shari@coganpr.com or (416) 985-2360.
---
About MadeGood:
Canada-based MadeGood® is dedicated to providing healthy snacks that are rich in nutrients, allergen friendly, and minimally processed. All MadeGood products contain wholesome organic ingredients that are ethically sourced. MadeGood is proud to be a Certified B Corp and part of a group of for-profit companies, certified by the nonprofit B Lab to meet rigorous standards of social and environmental performance, accountability, and transparency. MadeGood is a good choice for your health, your family's health, and the planet's health. Trust in something good.