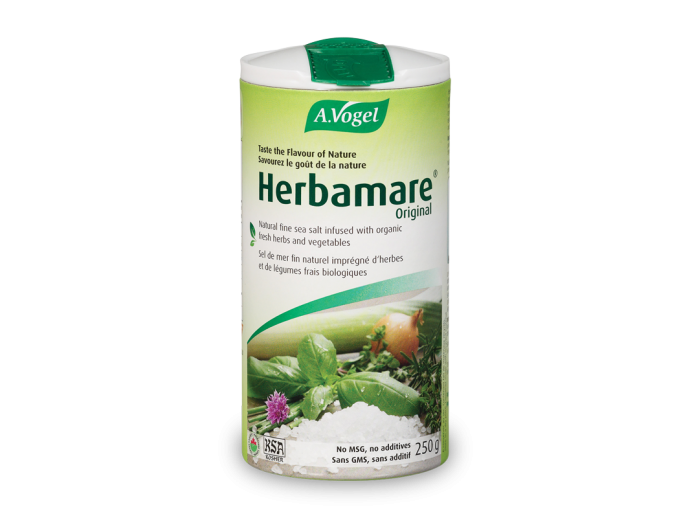 Herbamare celebrates 60 years of bringing its unique great taste to the table
For decades, A.Vogel's Herbamare has been a kitchen staple in the homes of Canadians across the country. Its unique blend of fine sea salt from the Mediterranean and 12 organically grown (Bio Suisse) fresh herbs and vegetables from around the Colmar region in France are the root of its name and acclaim.
The secret of Herbamare's incomparable taste comes from the fresh herbs and vegetables that are cut up to eight hours after harvest and its unique manufacturing process used to infuse each grain of salt with natural goodness.
Each herb and vegetable is processed individually before being crushed and mixed with high-quality sea salt that has over 80 essential trace elements since it is not refined or bleached, unlike table salt. The ratio between fresh products and sea salt is 1:2, which ensures the stability of the product. Once mixed, they are then left to macerate for a period of four to 12 months. Following the drying process, the proportion of vegetables is 6 to 8 percent.
The herbs and vegetables that make up Alfred Vogel's coveted recipe are carefully cultivated by contract farmers in healthy soil, without the use of pesticides and herbicides. They include parsley, chives, basil, lovage, marjoram, rosemary, thyme, celery, leek, cress, onions, and garlic.
Herbamare also contains the iodiferous sea alga, kelp. Where there is a lack of natural iodine, it constitutes an essential element of a healthy food supplement (and a preventive against diseases caused by a lack of iodine).
"We are proud to celebrate 60 years of empowering Canadians to live healthier lives through our high quality, unique sea salt. Herbamare is the ideal choice to replace your table salt and help you maintain a well-balanced diet. We look forward to spending 60 more years in hearts and kitchens across Canada and the world," said Mackie Vadacchino, CEO Bioforce.
Everything in moderation—Why we need salt in our daily regime
Despite salt's bum rap, a balanced diet should include it. Health Canada recommends that healthy adults consume 1,500 mg of sodium daily (about 1 tsp/5 mL) to replace the sodium we lose through sweat and urine, but not more than 2,300 mg of sodium daily (tolerable upper intake).
The body uses sodium to control blood pressure/volume, promote optimum cell function, and for proper functioning of muscles and nerves. The minerals in sea salt are in an optimal ratio to maintain the balance of body electrolytes.
Rich in the minerals calcium and magnesium, Herbamare comes in three flavours, Original, Spicy, and Sodium Free. They contain no gluten, lactose, animal proteins, yeast, MSG, preservatives, dyes, or GMO.
The history of a successful brand
A.Vogel was founded in Basel, Switzerland in 1923 by the company's founder and namesake, Alfred Vogel, a phytotherapist, naturopath, and pioneer in natural health. From 1937, Alfred Vogel cultivated and harvested herbs to manufacture remedies from fresh, organic GMO-free plants.
Today, A.Vogel (Bioforce) has over 500 employees and operates in 30 countries. The company's headquarters remain in Switzerland, with subsidiaries in Holland, France, Finland, and Canada. A.Vogel's commitment to organic farming methods means they use their own carefully selected seeds, knowing the history of each plant, and having full traceability.
For further information, contact Marie Claude Coupal, Product Manager, at (514) 421-3441 ext. 242 or mcoupal@bioforce.ca.