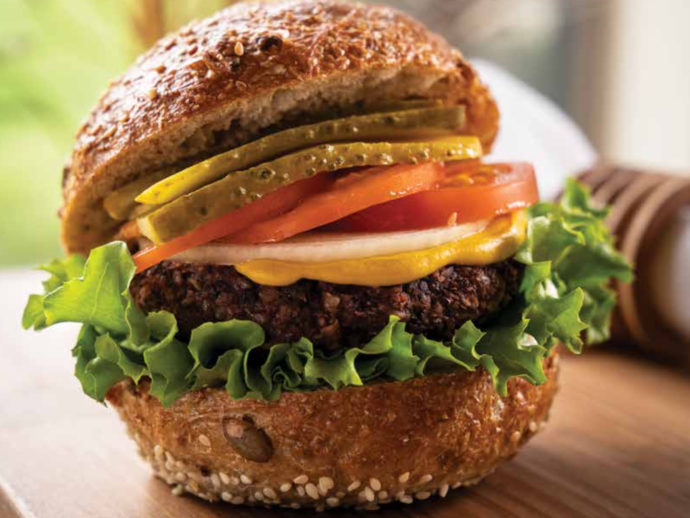 Skip the drive-thru and turn to everyday pantry ingredients to make your very own plant-based, fast food-inspired burger. Vegans, vegetarians, and omnivores alike will find something to love at first bite, no matter how you top your patty. Swap the lab coat for an apron and cook up a batch of these crowd-pleasers tonight.
9 oz (255 g) cremini mushrooms, roughly chopped
5 oz (140 g) cubed whole grain or gluten-free bread, torn into small pieces
2 cups (500 mL) raw sunflower seeds
1/2 cup (125 mL) peeled and roughly chopped red beet
2 garlic cloves, roughly chopped
1/4 cup (60 mL) extra-virgin olive oil
1/4 tsp (1 mL) kosher salt
1/4 tsp (1 mL) ground black pepper
1 cup (250 ml) black beans
1/4 cup (60 mL) vegan mayonnaise
2 Tbsp (30 mL) water, plus more as needed
1 Tbsp (15 mL) gluten-free tamari, soy sauce, or coconut aminos 1 Tbsp (15 mL) rice vinegar or apple cider vinegar
1 Tbsp (15 mL) ground flaxseed
8 whole wheat or gluten-free burger buns, split and warmed, for serving (optional)
Favourite burger toppings and condiments, for serving (optional)
Preheat oven to 400 F (200 C). On large rimmed baking sheet, toss mushrooms, bread, sunflower seeds, beet, and garlic with oil, salt, and pepper. Spread mixture into even layer and roast for 30 to 35 minutes, until fragrant and mixture has browned. Cool to room temperature.
In food processor fitted with metal blade, blend black beans until smooth. Add cooled mushroom mixture to beans and pulse to incorporate. Add mayonnaise, water, tamari, vinegar, and flaxseed, and alternate between pulsing and blending, stopping to scrape down sides and bottom of food processor a couple of times, until mixture can be pressed between your palms and sticks together like raw ground meat. If mixture is too crumbly, add up to 2 Tbsp (30 mL) additional water, 1 Tbsp (15 mL) at a time until it sticks together easily.
Line clean large rimmed baking sheet with parchment paper and scoop out burgers into approximately 1/2 cup (125 mL) portions. Form into burger patties about 1/2 in (1.25 cm) thick. Chill, uncovered, in refrigerator for 30 minutes.
Preheat oven to 350 F (180 C). After 30 minutes of chilling, transfer burgers to oven and bake for 15 to 20 minutes, until warmed through. Do not overbake, as they're delicate and will crumble if left in the oven too long. Carefully slide burgers onto buns along with your favourite burger toppings and condiments, or enjoy a patty on top of a big green salad.
Serves 6.