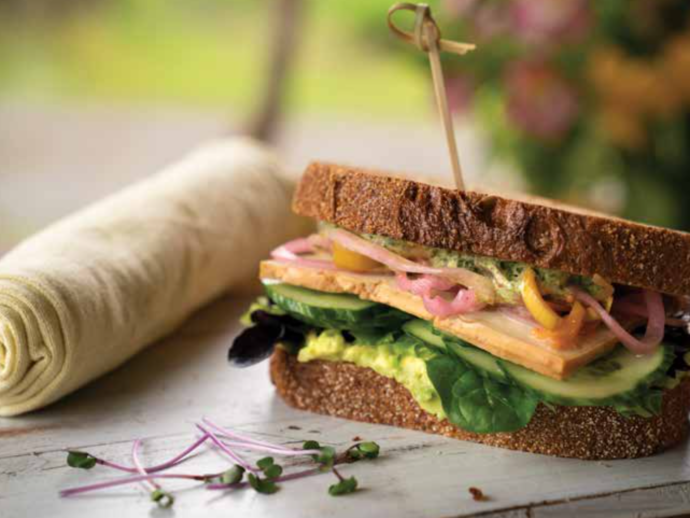 Starring the vinegary bite of pickled onions and leeks, think of this as basically a salad stuffed between two slices of bread—and a healthy way to up the ante of your midday meal. If you wish, tofu can be replaced with thick slices of fresh mozzarella or sliced grilled chicken.
3/4 cup (180 mL) white wine vinegar 1 Tbsp (15 mL) honey
1 tsp (5 mL) salt
1 tsp (5 mL) yellow mustard seeds 1/2 tsp (2 mL) red pepper flakes
1 cup (250 mL) thinly sliced red onion 1 cup (250 mL) thinly sliced leek
1/4 cup (60 mL) mayonnaise
2 Tbsp (30 mL) plain yogurt
1/3 cup (80 mL) basil
1/4 cup (60 mL) chopped chives
1 Tbsp (15 mL) fresh lemon juice
Pinch of salt
1 large avocado, thinly sliced
8 slices whole grain or gluten-free bread, toasted
4 cups (1 L) baby greens
1 cup (250 mL) sliced cucumber
2 – 7 1/2 oz (210 g) pkgs smoked tofu, sliced in half lengthwise
In medium saucepan, bring vinegar, 3/4 cup (180 mL) water, honey, salt, mustard seeds, and red pepper flakes to a boil; heat until honey and salt have dissolved. Place onion and leek in bowl, cover with vinegar mixture, and let sit for at least 2 hours. Refrigerate tightly for up to 2 weeks.
In blender, place mayo, yogurt, basil, chives, lemon juice, and a pinch of salt, and purée until smooth.
Divide and smash avocado on 4 slices of toasted bread. Arrange greens and cucumbers over avocado. Top with tofu and pile on pickled bulbs. Spread remaining 4 bread slices with basil sauce and place on sandwich sauce side down. Slice sandwiches in half to serve.
Serves 4.