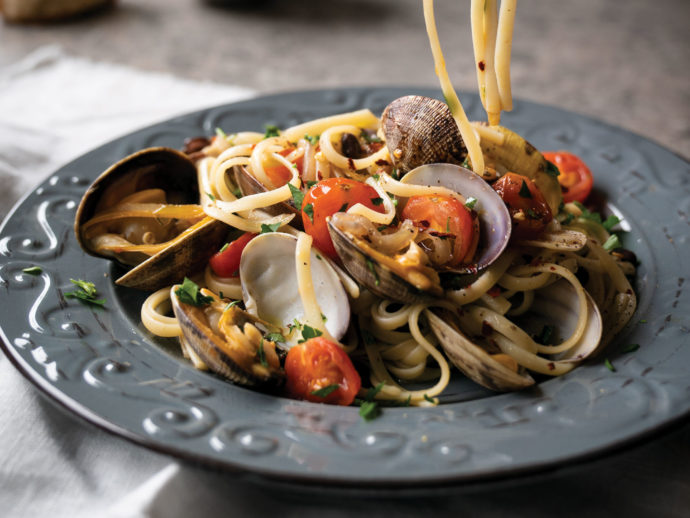 Adolescent girls and young women have an increased need for iron-rich foods. And enhancing vitamin C consumption is essential for optimal iron absorption. Our iron-rich pasta dish is a simple and tasty dish that scores on all levels. With the combination of tomatoes, clams, and parsley, it's the perfect marriage for an iron-clad, vitamin C meal.
3/4 lb (350 g) whole wheat or regular linguine pasta or gluten-free spaghetti
3 Tbsp (45 mL) extra-virgin olive oil, plus extra, if desired
1/2 red onion, thinly sliced
4 large Russian garlic cloves, peeled and shaved
1/4 tsp (1 mL) crushed red pepper flakes
1/4 cup (60 mL) dry white wine
2 cups (500 mL) cherry tomatoes, halved
2 lbs (1 kg) baby clams, such as littleneck, scrubbed
1 cup (250 mL) black beans, rinsed and well drained
1/2 cup (125 mL) chopped parsley
Freshly ground black pepper (optional)
In large saucepan, partially cook linguine in lightly salted boiling water for 6 minutes—or still very firm but not al dente. Reserve 1 1/2 cups (350 mL) pasta water and set aside. Drain remaining water from pasta and place pasta in large bowl.
Add oil to saucepan and heat just until shimmering. Add onion, garlic, and red pepper flakes. Sauté over medium heat until soft but not browned, about 2 or 3 minutes. Add wine, tomatoes, and clams. Cover and cook, shaking pan a few times, until clams have opened, about 5 minutes. Using slotted spoon, lift lid, removing clams that have opened to a separate dish.
When all clams are removed, add reserved pasta water and black beans to saucepan with tomatoes and bring to a boil. Add partially cooked linguine and cook, tossing pasta with tongs several times, until pasta is al dente, about 2 more minutes.
Remove from heat and return clams and any accumulated juices to saucepan. Add parsley and toss to evenly mix. Divide among 6 serving bowls and drizzle with a little extra oil and a sprinkling of black pepper, if you wish.
Serves 6.
Each serving contains: 420 calories; 45 g protein; 10 g total fat (1 g sat. fat, 0 g trans fat); 34 g total carbohydrates (3 g sugars, 5 g fibre); 179 mg sodium