Quercetin: Breakthrough in Absorption Technology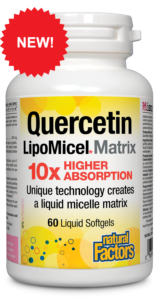 Until now, one of the biggest challenges with quercetin has been its lack of water solubility. We have overcome this challenge via our latest technology: a unique liquid micelle matrix. This groundbreaking process solubilizes quercetin into liquid, allowing it to be absorbed up to 10x better than regular quercetin.
naturalfactors.com; (888) 566-4404
Genuine Health Collagen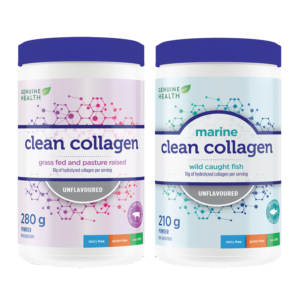 Genuine Health makes it easy to get your daily dose of collagen! Each serving of clean collagen contains 10 grams of pure, hydrolyzed collagen from consciously-sourced grass-fed, pasture-raised USDA cattle or sustainably sourced wild-caught fish from the North Atlantic. Both are available in unflavoured and lightly flavoured water enhancers.
Daiya Gluten-Free Pizza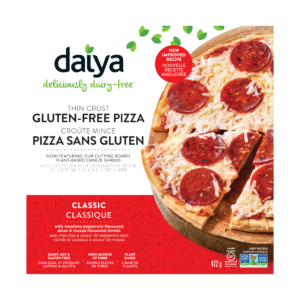 Daiya's plant-based frozen pizzas feature a crispy gluten-free crust and are now topped with Daiya Cutting Board Collection shreds to satisfy all your pizza cravings.
NEW! Healthy Bones from CanPrev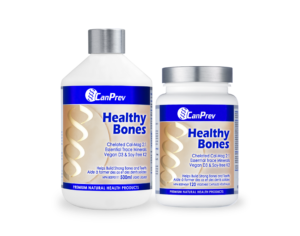 Our bones are living organs, in a constant cycle of breaking down and rebuilding. Healthy Bones from CanPrev supports bone remineralization to help build strong bones and teeth. It provides highly absorbable chelated glycinate forms of key minerals, along with vegan D3 and soy-free K2. Available in capsules or a delicious vanilla-flavoured liquid formula.
canprev.ca; (888) 226-7733
RISE Kombucha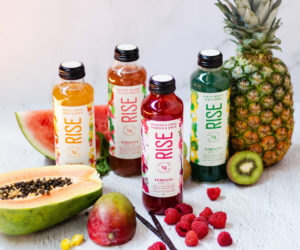 Amazing taste and only 1 g of sugar per serving. Experience the taste of fruit forward thinking! Learn more at risekombucha.com
Vitamin C Serum with Ferulic Acid

This highly concentrated NOW® Solutions serum brightens the complexion and minimizes the visible signs of aging. It combines collagen building vitamin C to improve texture and tone, as well as protective ferulic acid, rich in antioxidants to reduce the damage caused by free radicals that can impair skin health.
Delicious Hair Volume Gummies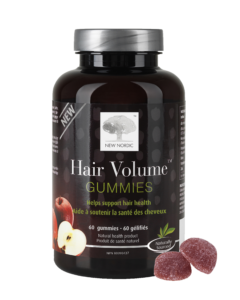 Hair Volume Gummies, with their delicious apple flavour, are a convenient way of taking your hair supplement to support healthy hair from the inside out. More information at
Daiya Blocks of Delicious Cheesy Goodness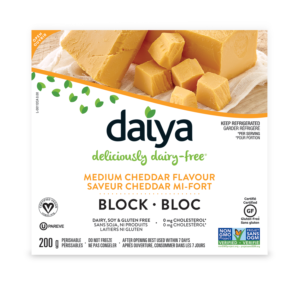 With real-cheese flavour & creaminess, Daiya Blocks are wonderfully versatile. Cube, slice, shred, or crumble them in any hot or cold recipe for dairy-free delight throughout the day!
Ultimate Anti-Stress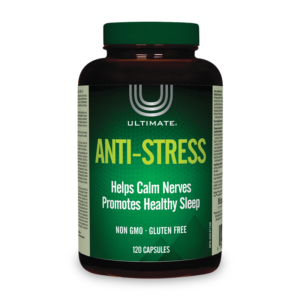 Stress relief from natural ingredients
Relieves nervousness and promotes calmness, as used in herbal medicine
Promotes healthy sleep
Enhances memory, as used in Ayurvedic medicine
Helps normalize the body's response to stress
Contains the antioxidants quercetin and rhodiola
pno.ca/category/brad-king.html; (888) 826-9625
WomenSense PCOSense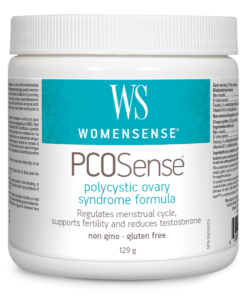 Aids in the management of the hormonal and metabolic symptoms of PCOS
Promotes healthy glucose metabolism and reduces insulin resistance
Supports ovarian function, egg quality, and fertility in women with PCOS
May support in vitro fertilization (IVF) outcomes in women with PCOS
Helps maintain the body's ability to metabolize nutrients
Supports a normal menstrual cycle and reduces serum testosterone in women with PCOS
womensense.com; (888) 826-9625
Feel the difference with Whole Earth & Sea Multis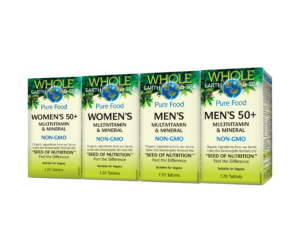 These Pure Food formulas are specially designed to meet the needs of both younger and more mature men and women
Raw, whole-food bioenergetic formula
Made with farm-fresh, organic, and sustainably grown non-GMO ingredients
Suitable for vegans and vegetarians
Available in 60 and 120 sizes
wholeearthsea.com; (888) 566-4404
Cleanse your body all year long with Active Liver!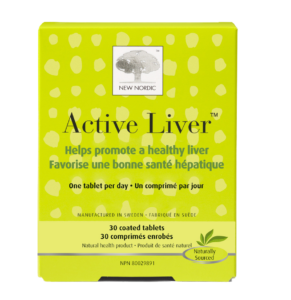 Active Liver™ is a Swedish herbal supplement that contains important liver-loving ingredients like turmeric, globe artichoke, and milk thistle. These herbs have long been used in herbal medicine to help support liver health. More information at
VegiDay Vegan Organic All in One Nutritional Shake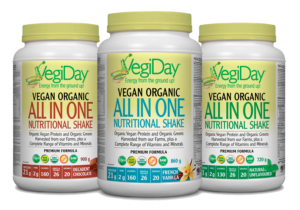 21 g of vegan organic protein with organic fruits and vegetables
Source of vitamins, minerals, and antioxidants
Source of protein to help build and repair body tissues
Improves body composition by helping to build lean muscle mass when combined with regular weight training and a healthy balanced diet
Supports healthy immune function
Helps promote healthy weight management
Helps in energy production
Helps prevent vitamin E and vitamin C deficiencies
Helps prevent B1, B2, B3, B5, B6, and B12 deficiencies
Available in Chocolate, French Vanilla, Natural Unflavoured, and limited release Step Into Spring
myvegiday.com; (888) 826-9625
ALLMAX Collagen + Biotin & Vitamin C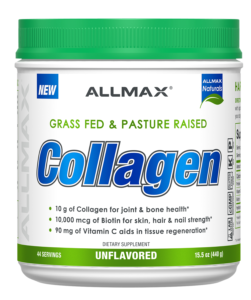 ALLMAX NATURALS CYTOGREENS® is a nutrient-rich greens formula designed for those with an active lifestyle. It features an exclusive Green Performance Matrix developed to help you recover faster, improve stamina, strengthen immunity and optimize physical performance. Easy to mix and tastes great in smoothies.
Natural Calm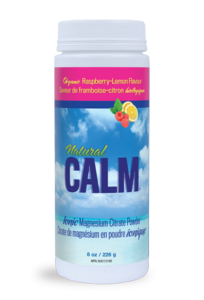 Natural Calm is the better absorbing, better tasting, and best loved magnesium on the market. Find it wherever natural health products are sold!
WomenSense HappySense 5-HTP 50/100 mg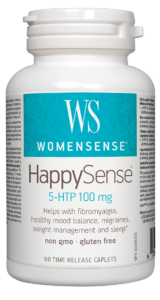 Helps promote healthy mood balance
Helps relieve symptoms of fibromyalgia
Helps reduce the severity and duration of migraine headaches when taken as a preventative
Used as a sleep aid
Reduces carbohydrate cravings to help in weight management when used with a program of reduced intake of dietary calories and increased physical activity
Naturally enhances serotonin levels
womensense.com; (888) 826-9625
Whole Earth & Sea Greens and Protein & Greens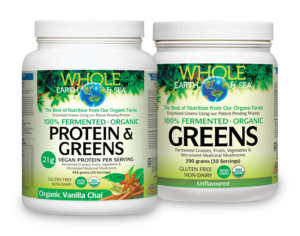 100% fermented and organic plant-based green superfood formula, made in Canada
Fermentation helps enhance nutrient bioavailability and produces unique beneficial compounds to support all-around good health
Great-tasting, vegan, non-GMO, and naturally sweetened with stevia
Gluten free and non-dairy
Greens available in Organic Chocolate, Organic Tropical, and Unflavoured. Protein & Greens available in Organic Chocolate, Organic Tropical, Organic Vanilla Chai, and Unflavoured.
wholeearthsea.com; (888) 566-4404
Ancient Nutrition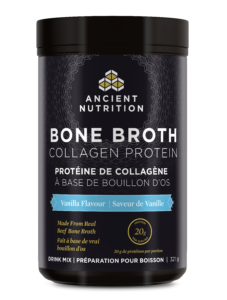 Get all the health benefits of real beef bone broth in collagen powder that is smooth, convenient to use, and easy to digest. Ancient Nutrition's Bone Broth Collagen Protein is free from common allergens and sourced from pasture raised cows.
NEW! Chewable Magnesium from CanPrev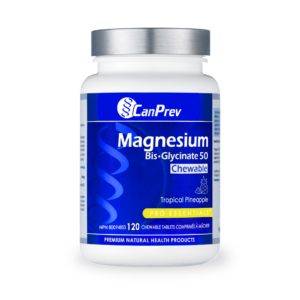 Chew on this… each piece of CanPrev's NEW Magnesium Bis-Glycinate Chewable provides 50 mg of pure elemental magnesium with a delicious natural pineapple flavour. This tasty treat is made for both kids and adults. The proprietary magnesium-glycine complex is designed for effective absorption and gentleness. Just what you've come to expect from CanPrev.
magnesium.ca; (888) 226-7733