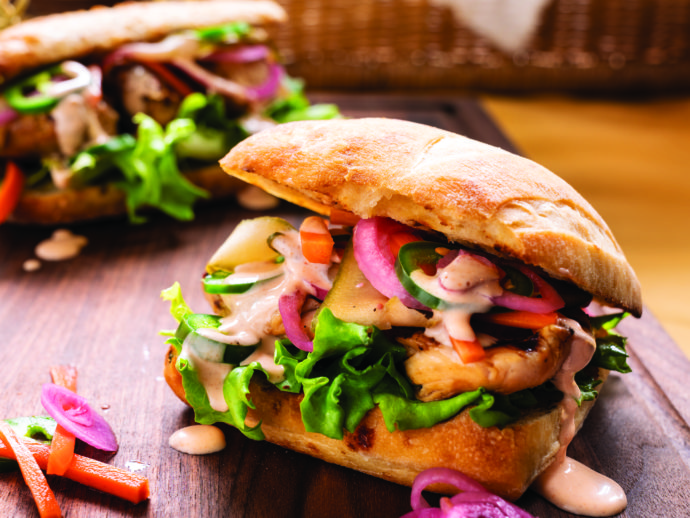 From tempeh to organic chicken, this flexible grill selection offers delicious flavours to satisfy all palates. Marinating tempeh and organic chicken are the best prep options for a flavourful, juicy dish. Serving options include layered on a bun, in a bowl with greens, or on a bed of rice. The additional flavourful punch comes from the pickled veggies.
Pickled veggies
1 small unpeeled English cucumber, thinly shaved lengthwise
1/2 red onion, thinly sliced
1/2 cup (125 mL) matchstick-cut carrots
1/2 cup (125 mL) rice vinegar
1/2 cup (125 mL) water
1 Tbsp (15 mL) granulated raw sugar
1/4 tsp (1 mL) sea salt
1/4 tsp (1 mL) crushed dried red chilies
Flexible banh mi
1/2 cup (125 mL) water
1/4 cup (60 mL) lime juice
2 Tbsp (30 mL) honey
4 garlic cloves, smashed and minced
1 tsp (5 mL) grated fresh gingerroot or gingerroot paste
1/4 tsp (1 mL) sea salt
1/4 tsp (1 mL) crushed dried red chilies
2 – 6 oz (170 g) pkgs plain tempeh
1 lb (450 g) boneless, skinless organic chicken breasts, lightly pounded
Toasted crusty rolls (optional)
Leafy lettuce (optional)
1 bunch cilantro, separated into leaves
2 serrano peppers, seeded and thinly sliced into rounds
Spicy mayo
1/3 cup (80 mL) mayonnaise, vegan or olive oil-based
2 Tbsp (30 mL) milk or nondairy substitute
1 Tbsp (15 mL) lime juice
2 tsp (10 mL) Sriracha chili sauce
1/4 tsp (1 mL) Chinese five-spice powder
In 4 cup (1 L) Mason jar, combine cucumber, onion, and matchstick carrots. In small saucepan, bring vinegar, water, sugar, salt, and chilies to a boil. Stir to blend. Pour over vegetables in Mason jar and press down, submerging vegetables in liquid. Bring to room temperature. Cover and refrigerate till chilled. Pickles can be stored in the refrigerator for up to 1 month.
In small saucepan, make banh mi marinade by combining water, lime juice, honey, garlic, gingerroot, salt, and chilies. Gently heat, stirring to dissolve honey and marry flavours. Remove and cool. Divide between 2 shallow bowls.
Cut tempeh into 1 in (2.5 cm) cubes. Place chicken breasts in one bowl, tempeh cubes in second bowl. Roll them around in marinade to coat. Cover each bowl and refrigerate to marinate for a few hours or overnight.
In small bowl, whisk Spicy Mayo ingredients. Transfer to squeeze tube and refrigerate. It can be refrigerated for up to a week.
Grease barbecue grill and preheat to medium high. Slide tempeh cubes onto 2 skewers. Set aside.
Begin by grilling chicken. Remove chicken from marinade and place on heated grill. Grill chicken, without turning, for 6 to 10 minutes, depending on heat from barbecue. Lower heat on a portion of grill. Flip chicken and move to indirect heated side of grill. While chicken continues to cook, place skewered tempeh on heated side. Gently grill, turning skewers several times until slightly crusted and piping hot, about 5 minutes. Remove and cover to keep warm. Continue to cook chicken until it registers 160 F (70 C), about 8 to 10 minutes. Remove to cutting board and let rest for a few minutes before slicing.
To serve, spread toasted crusty rolls with Spicy Mayo, or alternatively, line serving dishes with lettuce. Arrange tempeh cubes or slices of chicken onto rolls or lettuce. Using tongs, arrange pickled vegetables on top. Add some slices of serrano peppers and fresh cilantro. Serve immediately.
Serves 4 chicken and 4 vegan meals.
Each chicken serving contains: 285 calories; 30 g protein; 8 g total fat (1 g sat. fat, 0 g trans fat); 23 g total carbohydrates (16 g sugars, 2 g fibre); 584 mg sodium
Each tempeh serving contains: 321 calories; 19 g protein; 16 g total fat (4 g sat. fat, 0 g trans fat); 31 g total carbohydrates (16 g sugars, 2 g fibre); 535 mg sodium