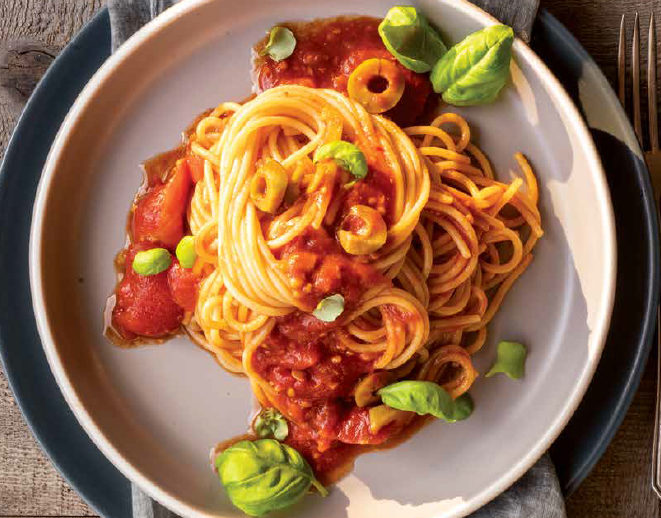 Harissa is a North African spice paste that is now readily available in stores, but it's so easy and much more affordable to make at home. It's commonly stirred into stews, soups, and the like, but shines when turned into a sauce for pasta.
Harissa paste
2 tsp (10 mL) caraway seeds
2 tsp (10 mL) cumin seeds
1 tsp (5 mL) coriander seeds
2 garlic cloves, peeled
1/3 cup (80 mL) tomato paste
1/4 cup (60 mL) extra-virgin olive oil
1 Tbsp (15 mL) crushed red pepper flakes
1 Tbsp (15 mL) smoked paprika
1 Tbsp (15 mL) lemon juice
1/2 tsp (2 mL) salt
Pasta
Salt, for the pasta water
1 lb (450 g) spelt or gluten-free spaghetti
3 Tbsp (45 mL) Harissa Paste, homemade (recipe above) or prepared
1 – 28 oz (796 mL) can whole tomatoes
1/4 cup (60 mL) chopped green olives
2 tsp (10 mL) balsamic vinegar
1/4 cup (60 mL) fresh basil leaves
For Harissa Paste, in small skillet, toast caraway, cumin, and coriander over medium heat, stirring constantly, until fragrant, about 2 minutes. Watch carefully, as they can burn in a flash. Transfer toasted seeds to food processor and pulse until ground. To food processor, add garlic and pulse to finely chop, followed by remaining Harissa Paste ingredients. Purée until smooth. Transfer to airtight glass jar and store in refrigerator for up to 2 weeks or freeze for up to 3 months.
For pasta, bring large pot of water to a boil and salt well. Cook pasta according to package directions, reserving 1 cup (250 mL) pasta water, and drain pasta. Meanwhile, in large high-sided skillet, heat Harissa Paste over medium and cook for 30 seconds to 1 minute, until fragrant. Add tomatoes, olives, and vinegar; bring to a boil; and cook, uncovered, breaking up tomatoes as you stir occasionally for 10 minutes.
Add cooked pasta to sauce and toss over medium heat until the sauce and pasta come together. Add a splash of reserved pasta water to loosen sauce as you go, if necessary. Divide pasta among bowls, top with fresh basil, and serve.
Serves 5.
Harissa Paste 
Each serving contains: 105 calories; 1 g protein; 10 g total fat (1 g sat. fat, 0 g trans fat); 5 g total carbohydrates (2 g sugars, 2 g fibre); 210 mg sodium
Harissa Tomato Spaghetti
Each serving contains: 213 calories; 8 g protein; 4 g total fat (1 g sat. fat, 0 g trans fat); 42 g total carbohydrates (5 g sugars, 2 g fibre); 140 mg sodium