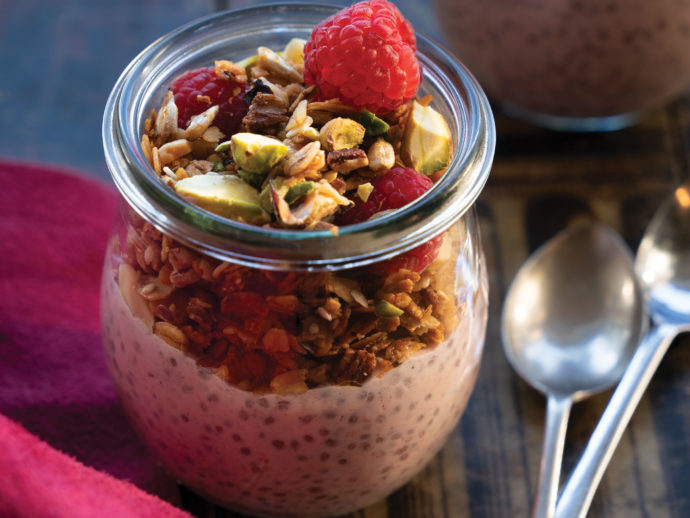 Tangy and deliciously thick with a finishing crunch, this make-ahead breakfast is a great way to break out of a cereal rut. It's also a tasty way to recover after a hard workout. The raspberries and chia seeds team up to deliver a payload of fibre to keep you satiated all morning long. If desired, raspberries can be replaced with strawberries, muesli can stand in for granola, and the pistachios can be swapped out for almonds.
1/2 cup (125 mL) milk or unsweetened nondairy milk
1 cup (250 mL) plain Greek yogurt
1 cup (250 mL) fresh or frozen (thawed) raspberries,
plus more for topping
2 Tbsp (30 mL) fresh mint (optional)
2 tsp (10 mL) honey
1 tsp (5 mL) lemon zest
1 tsp (5 mL) vanilla extract
1/2 tsp (2 mL) cinnamon
Pinch of salt
4 Tbsp (60 mL) chia seeds
2/3 cup (160 mL) granola (try our Maple Skillet Granola
on page 29)
2 Tbsp (30 mL) chopped pistachios
Place milk, yogurt, raspberries, mint (if using), honey, vanilla, lemon zest, cinnamon, and a pinch of salt in blender container and blend until smooth.
Divide mixture between 2 wide-mouth jars, add 2 Tbsp (30 mL) chia seeds to each jar, and stir to combine. Seal jar and chill overnight. The chia seeds will soak up the liquid and create a thick texture.
When ready to serve, top each jar with an equal amount of granola, pistachios, and raspberries.
Each serving contains: 462 calories; 22 g protein; 16 g total fat (2 g sat. fat, 0 g trans fat); 60 g total carbohydrates (20 g sugars, 21g fibre); 80 mg sodium