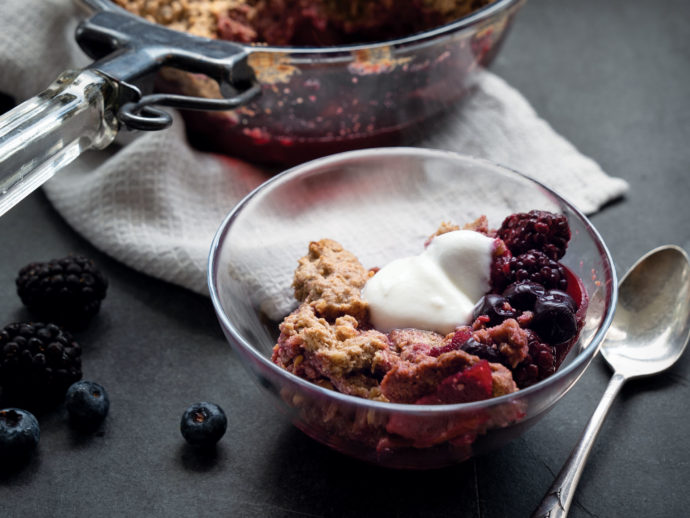 This breakfast crumble includes flaxseed, rich in omega-3s to deliver anti-inflammatory benefits; berries, a source of vitamin C-supplying antioxidant action; and fibre-rich apples, because a well-functioning digestive system can contribute to a healthy complexion. It's a make-ahead morning meal that is easy to pack for workday breakfasts, but can be repurposed with a dollop of maple-sweetened yogurt for dessert.
Oat-flax crumble
2 cups (500 mL) oat flour
1 cup (250 mL) rolled oats
1/2 cup (125 mL) ground flaxseed
2 tsp (10 mL) ground cinnamon
1/2 tsp (2 mL) fine-grain salt
1/2 cup (125 mL) extra-virgin olive oil
1/2 cup (125 mL) honey or maple syrup
Fruit filling
4 apples or pears, unpeeled, cored, and thinly sliced
2 cups (500 mL) fresh or frozen berries (blueberries, raspberries, blackberries, etc.)
2 Tbsp (30 mL) water
1 Tbsp (15 mL) lemon juice
Preheat oven to 350 F (180 C).
For crumble topping, in large bowl, mix to combine flour, oats, flaxseed, cinnamon, and salt. Stir in oil and honey or syrup, stirring until mixture is fully incorporated and mixture is tacky.
For filling, in large bowl, mix apples or pears, berries, water, and lemon juice until fully combined. Tip fruit into 10 in (25 cm) round or 8 x 8 in (20 x 20 cm) baking dish or cast iron pan, distributing fruit filling evenly.
To assemble, crumble topping over fruit filling, pressing down gently to encase fruit. There may be extra crumble topping, which you can freeze for another crumble or crisp.
Bake for 40 to 50 minutes, until fruit is bubbling and topping is beginning to brown. Serve warm or chilled with yogurt or a splash of milk, if desired. Once cool, cover, and refrigerate—it lasts for about a week. Reheat single servings in low oven if desired or enjoy cold.
Each serving contains: 524 calories; 10 g protein; 25 g total fat (3 g sat. fat, 0 g trans fat); 69 g total carbohydrates (25 g sugars, 12 g fibre); 181 mg sodium
---
Tip: Change up the fruit filling with any soft-fleshed fresh or frozen varieties. Try peaches and blackberries, apricots and raspberries, or plums and strawberries.