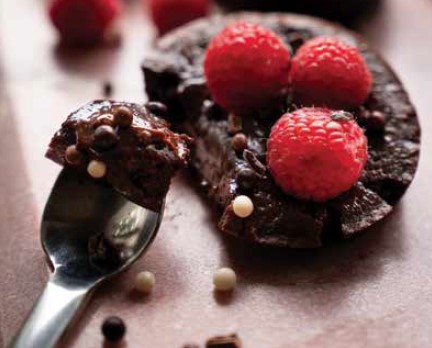 It's not the most calorie-conscious dessert, but these silky cakes are the epitome of #epicchocolate. It's a decadent way to spread the love at the end of the day. If needed, an all-purpose gluten-free flour blend can be used.
4 oz (113 g) dark chocolate, chopped
1/4 cup (60 mL) unsalted butter, chopped
2 tsp (10 mL) instant espresso powder, optional
1 organic egg
1 organic egg yolk
1/3 cup (80 mL) granulated sugar
2 Tbsp (30 mL) whole wheat pastry flour or spelt flour
1 tsp (5 mL) vanilla
1/2 tsp (2 mL) cinnamon
1/8 tsp (0.5 mL) salt
1 cup (250 mL) raspberries
1/4 cup (60 mL) cacao nibs, optional
In heatproof bowl set over pan of gently simmering water, melt chocolate and butter,, stirring consistently until melted. Or place chocolate and butter in microwave-safe bowl and microwave on high power in 20-second intervals, stirring between each interval until melted. Let cool.
If using espresso powder, dissolve it in 2 Tbsp (30 mL) boiling water. Let cool.
In large bowl, use electric mixer or handheld whisk to beat together egg, egg yolk, and sugar until thickened and paler in colour. Gently stir in melted chocolate (and espresso, if using). Fold in flour, vanilla, cinnamon, and salt.
Divide mixture among 6 standard-sized greased or paper-lined muffin cups. Set tray in refrigerator for 30 minutes before baking.
Heat oven to 375 F (190 C). Bake cakes for 8 minutes, or until edges are set but centres are still soft to the touch and appear undercooked. Let cool in the refrigerator for 15 minutes before unmoulding. Serve garnished with raspberries and, if desired, cacao nibs.
Serves 6.
Each serving contains: 381 calories; 10 g protein; 27 g total fat (14 g sat. fat, 0 g trans fat); 25 g total carbohydrates (17 g sugars, 4 g fibre); 85 mg sodium