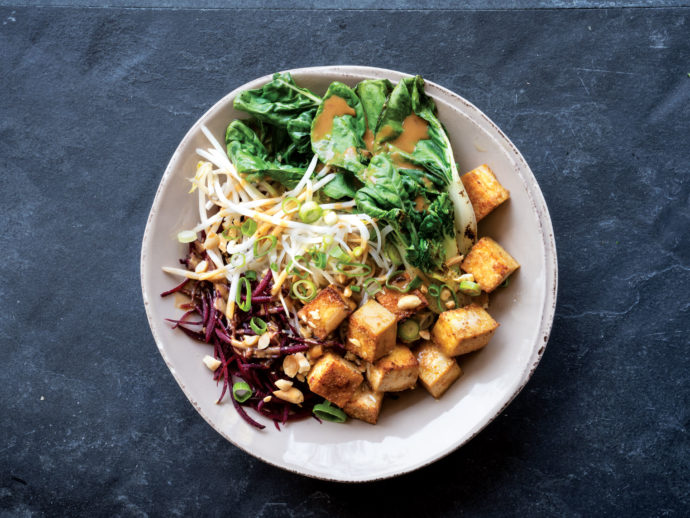 Just one bite and you will fall head over heels for this completely plant-based meal bowl that is not only vegan but also gluten free.
Tip
If you have a sensitivity to peanuts, substitute almond butter and chopped almonds in this recipe.
Ingredients
Crispy Peanut Tofu
12 oz (340 g) extra-firm tofu
2 tsp (10 mL) toasted sesame oil
1 Tbsp (15 mL) unseasoned rice vinegar
1 Tbsp (15 mL) low-sodium tamari
2 Tbsp (30 mL) coconut sugar
3 Tbsp (45 mL) water or low-sodium vegetable stock
1/2 tsp (2 mL) chili garlic sauce
2 1/2 Tbsp (37 mL) unsalted, smooth peanut butter
Bowl
3 1/2 oz (100 g) dried rice noodles, either thick or thin
1 tsp (5 mL) avocado oil
4 to 6 baby bok choy, trimmed and cut in half
1 small raw red beetroot, peeled and julienned or shredded
1/2 cup (125 mL) bean sprouts or soy sprouts
1 green onion, trimmed and thinly sliced into rounds
2 Tbsp (30 mL) roasted peanuts, chopped
Directions
Preheat oven to 400 F (200 C).
Wrap tofu in several layers of paper towel or a couple of kitchen towels. Place something heavy, such as a large pot containing a couple of canned goods, on top and set aside for 15 to 20 minutes.
Meanwhile, in medium bowl whisk together sesame oil, rice vinegar, tamari, coconut sugar, water, chili garlic sauce, and peanut butter until well combined. Set aside.
Cut drained tofu into bite-sized cubes and place in single layer on parchment-lined baking tray. Bake for 25 minutes, stirring once about halfway through cooking time. Set aside to cool at least 10 minutes. Stir cooled tofu into peanut sauce and let marinate for 15 minutes.
Bring medium saucepan of water to a boil. Remove from heat and immediately add rice noodles. Soak noodles according to package instructions, then drain and rinse under cold water.
In large frying pan or skillet, heat avocado oil over medium heat. Add bok choy and sauté until wilted and lightly browned, about 1 to 2 minutes. Remove and set aside on plate and cover to keep warm. Place pan back over medium heat and, using slotted spoon, transfer tofu cubes to hot pan. Add a couple of tablespoons of sauce and cook, stirring frequently, until browned on all sides. As tofu will stick a bit to the pan, use a metal or wooden spatula to make it easier to flip and turn tofu.
To assemble bowls, divide rice noodles among serving bowls. Top with bok choy, beets, crispy tofu, and sprouts. Drizzle with any leftover peanut sauce before garnishing with some green onion and chopped peanuts.
Nutritional Information
Each serving contains: 708 calories; 33 g protein; 39 g total fat (7 g sat. fat, 0 g trans fat); 77 g total carbohydrates (23 g sugars, 8 g fibre); 543 mg sodium