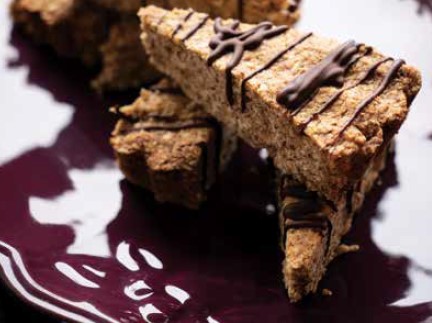 Is there such a thing as a crispy heart-healthy cake wedge? We think so. In this chew-worthy snack, we've combined oats with coconut, a little flaxseed, and some nutty hemp hearts. Together they make a perfect treat that your heart will love.
1 cup (250 mL) large-flake gluten-free oats
1 cup (250 mL) gluten-free oat flour
1/2 tsp (2 mL) baking soda
1/4 tsp (1 mL) sea salt
1/2 cup (125 mL) coconut oil, at room temperature
3/4 cup (180 mL) coconut sugar
1 Tbsp (15 mL) ground flaxseed
3 Tbsp (45 mL) water
1 cup (250 mL) unsweetened medium shredded coconut
1/2 cup (125 mL) hulled hemp hearts
1 oz (32 g) dark chocolate, melted, optional
Preheat oven to 350 F (180 C). Grease 9 in (23 cm) tart pan with removable bottom.
In medium bowl, combine oats, oat flour, soda, and salt. Stir to blend. In separate medium bowl, combine
coconut oil and coconut sugar. Stir with wooden spoon until creamy.
In small bowl, combine flaxseed and water. Stir to blend. Set aside for a couple of minutes to thicken. Add to oil and sugar mixture and stir in. Stir in oat mixture until completely blended, using your hands to work it together if necessary. Stir in shredded coconut and hemp hearts until blended. Alternatively, you can mix everything in a food processor and pulse until blended.
Transfer mixture to oiled tart pan and press into an even thickness, smoothing the surface. Bake in preheated oven for 25 minutes, until golden. Remove to rack to cool. If using chocolate, melt in bowl in microwave and drizzle overtop. Refrigerate before cutting into wedges. Best stored in the refrigerator.
Makes 24 crispy heart-healthy wedges.
Each wedge contains: 150 calories; 1 g protein; 10 g total fat (3 g sat. fat, 0 g trans fat); 4 g total carbohydrates (0 g sugars, 1 g fibre); 54 mg sodium