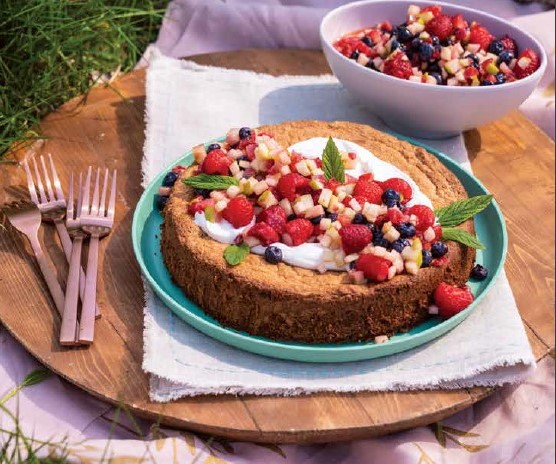 Here's a gluten-free cake that's light and fluffy. Cut into wedges with fresh fruit salsa, it's delicious served at any event. Serve with a dollop of yogurt or a scoop of ice cream.
Berry salsa
1 large navel orange
1 unpeeled Granny Smith apple, cored and finely diced
1 cup (250 mL) finely diced fresh strawberries
1 cup (250 mL) fresh blueberries
1 cup (250 mL) fresh raspberries
2 Tbsp (30 mL) honey
1 Tbsp (15 mL) blackberry balsamic vinegar (optional)
Citrus olive oil cake 
1 1/2 cups (350 mL) firmly packed almond meal
1 tsp (5 mL) baking powder
1/2 tsp (2 mL) ground cinnamon
1/2 tsp (2 mL) ground ginger
1/2 tsp (2 mL) sea salt, plus extra
4 organic eggs, separated, at room temperature
4 Tbsp (60 mL) raw cane sugar, divided
1/2 cup (125 mL) extra-virgin olive oil, plus extra for greasing pan
Zest from 1 orange
1/4 tsp (1 mL) cream of tartar
In large bowl, place 1 tsp (5 mL) zest from orange. Squeeze juice from orange and add along with finely diced apple. Fold together to evenly coat apple with juice. Add remaining ingredients and toss together. Don't worry if raspberries break up. Drizzle with honey and gently fold in. Add balsamic, if you wish. Cover and set aside to marinate while making cake. Salsa can be refrigerated overnight, if you wish.
Preheat oven to 350 F (180 C). Grease bottom and sides of 9 in (23 cm) springform pan with some olive oil and line bottom with parchment paper. Grease parchment.
In medium bowl, combine almond meal, baking powder, cinnamon, ginger, and salt. Stir to blend and set aside.
In bowl of electric stand mixer, combine egg yolks and 2 Tbsp (30 mL) raw cane sugar. Beat together until thick and pale yellow, about 2 minutes. Beat in olive oil and orange zest. Do not worry if mixture appears to separate. Add to flour mixture and stir in until mixed. Do not beat. Mixture will be like a cookie dough batter.
Clean mixing bowl and beater and thoroughly dry. To cleaned and dried bowl, add egg whites, cream of tartar, and pinch of salt. Beat until foamy. Gradually beat in 2 Tbsp (30 mL) raw cane sugar until soft peaks form. Continue beating for about 2 more minutes until peaks are quite firm.
Stir 1/3 of beaten egg whites into flour mixture to loosen batter. Then fold in remaining egg whites, until no streaks remain. It's okay if batter has small lumps. Scrape batter into prepared pan and tap bottom of pan on kitchen surface to remove any air bubbles. Bake in centre of preheated oven for 40 to 45 minutes, or until cake is puffed and a skewer inserted in centre comes out clean.
Cool cake in pan on rack for 10 minutes. Then run the thin blade of knife around inside edge of pan and remove sides. Cool to room temperature. Remove bottom of pan and peel off parchment. Place cake on serving platter or in portable picnic container. Refrigerate until ready to serve. Serve wedges with Berry Salsa scattered overtop.
Serves 12.
Each serving contains: 191 calories; 6 g protein; 12 g total fat (2 g sat. fat, 0 g trans fat); 17 g total carbohydrates (11 g sugars, 2 g fibre); 147 mg sodium