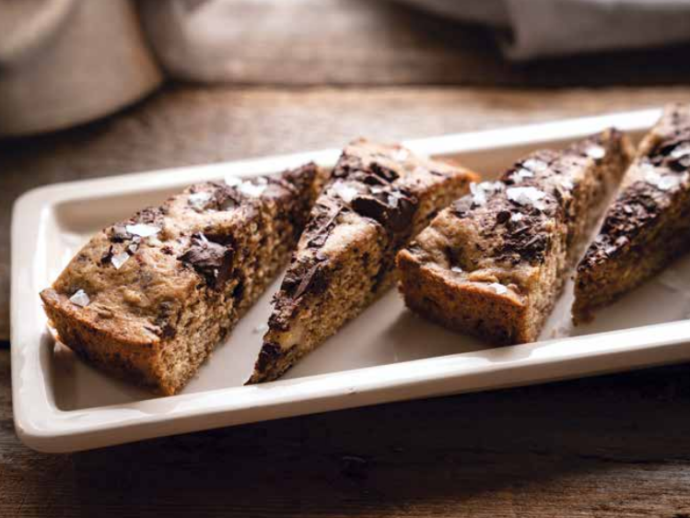 This large-format dreamboat of a cookie (crispy on the edges, chewy in the middle) stars plenty of gooey dark chocolate, which can legitimately bring on feelings of calmness and perk up your mood. Cut this Zen-like pie into wedges and feel good about serving it with a scoop of vanilla ice cream. If needed, an all-purpose gluten-free flour blend can replace the spelt flour.
1/4 cup (60 mL) melted unsalted butter or melted coconut oil
1/2 cup (125 mL) demerara or other raw-style sugar
1 large organic egg
1 tsp (5 mL) vanilla extract
1/4 tsp (1 mL) salt
1 cup (250 mL) spelt flour
1 tsp (5 mL) cinnamon
1/4 tsp (1 mL) baking soda
3 oz (about 2/3 cup/160 mL) chopped dark chocolate, at least 70% cocoa, divided
1/3 cup (80 mL) chopped walnuts
Flaky salt (optional)
Place rack in bottom third of oven and preheat to 375 F (190 C). Line bottom of 8 in (20 cm) round cake pan or springform pan with parchment paper and lightly grease sides of pan.
In large bowl, whisk together butter and sugar. Whisk in egg, vanilla, and salt until smooth. Stir in spelt flour, cinnamon, and baking soda, and mix until no dry flour remains. Reserve 1/4 cup (60 mL) chocolate and fold remaining chocolate and walnuts into batter.
Add mixture to prepared pan and spread out into even layer, using spatula. Scatter remaining chocolate over cookie and sprinkle with flaky salt, if using.
Bake for 15 minutes, or until centre is just barely set and edge is darkened. Let cookie pie cool for 5 minutes before removing from pan, and cooling further on wire rack. Cut into 8 wedges.
Serves 8.
Each serving contains: 239 calories; 5 g protein; 14 g total fat (7 g sat. fat, 0 g trans fat); 25 g total carbohydrates (12 g sugars, 3 g fibre); 126 mg sodium