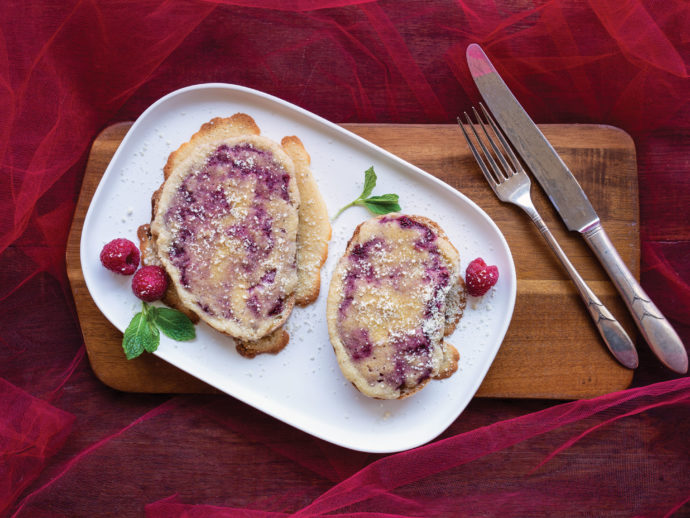 Bostock is a French pastry similar in flavour to an almond croissant, but as simple to make as French toast. A few nontraditional swaps, such as chia seeds (which nourish the heart with anti-inflammatory omega-3s) and berries instead of traditional jam or syrup, gluten-free or sourdough bread instead of brioche, and maple syrup instead of confectioner's sugar in the almond cream topping offer a healthier bostock with the same amazing flavour.
10 oz (300 g) fresh or frozen mixed berries or raspberries
4 Tbsp (60 mL) maple syrup, divided
1 tsp (5 mL) lemon juice
2 Tbsp (30 mL) chia seeds
1 cup (250 mL) almond meal or flour
2 Tbsp (30 mL) unsalted butter or coconut oil, very soft
1 tsp (5 mL) almond extract
1/8 tsp (0.5 mL) salt
1 large organic egg, room temperature
3/4 cup (180 mL) unsweetened plain almond milk, at room temperature
6 slices of sourdough (no seeds) or gluten-free bread
1 tsp (5 mL) almond or coconut flour
To make chia jam, add berries to medium saucepan and heat over medium until starting to bubble and break down, about 3 minutes. Turn off heat and add 2 Tbsp (30 mL) maple syrup, lemon juice, and chia seeds. Using immersion blender or fork, purée or mash berries until the mixture looks like jam (the chia seeds will remain visible). Transfer to glass jar, seal, and refrigerate for at least 2 hours or up to 1 week.
For almond cream, in medium bowl, mash almond meal with butter or coconut oil until combined, followed by remaining 2 Tbsp (30 mL) maple syrup, almond extract, and salt. Using fork, mix in egg until fully combined, followed by almond milk. Set mixture aside for 10 minutes for almond meal to absorb the liquid, stirring once or twice.
Preheat oven to 350 F (180 C). Line large rimmed baking sheet with parchment paper. Line parchment with bread slices and add a thick layer of chia jam, making sure to cover every bit of exposed bread (you may have extra jam left over). Give almond cream mixture a good stir and divide overtop of jam, carefully pushing almond cream to smooth out. Bake for 20 to 25 minutes, until almond cream is set and beginning to lightly brown. Dust with teaspoon of flour and serve warm.
Each serving contains: 289 calories; 9 g protein; 12 g total fat (3 g sat. fat, 0 g trans fat); 37 g total carbohydrates (11 g sugars, 7 g fibre); 295 mg sodium