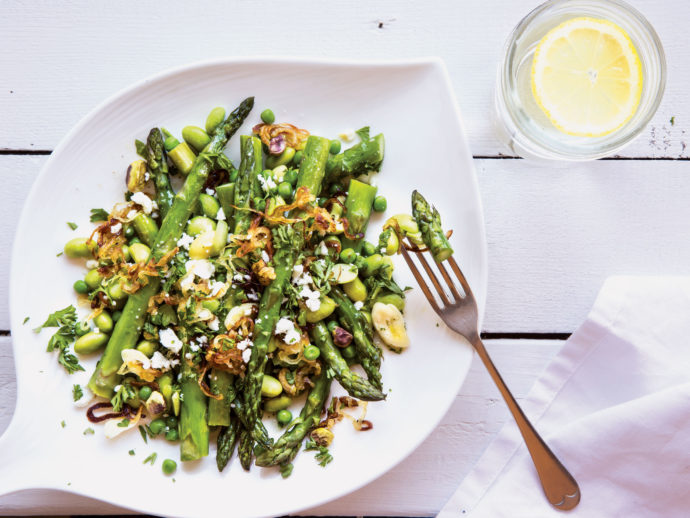 So lush in health-hiking nutrients and fresh flavours, this vividly green dish is perfect for moving away from heavier winter fare into lighter dishes that are a harbinger of warmer, greener days ahead. Left to darken in a frying pan, shallots transform from pungent to deliciously sweet, making them an inspiring salad topping.
Ingredients
2 Tbsp + 2 tsp (40 mL) grapeseed or sunflower oil
Salt, to taste
1/2 cup (125 mL) thinly sliced shallots
1 bunch asparagus
2 garlic cloves, minced
1 cup (250 mL) frozen shelled organic edamame
1 cup (250 mL) fresh shelled peas or frozen peas, thawed
2 Tbsp (30 mL) extra-virgin olive oil or camelina oil
1 Tbsp (15 mL) fresh lemon juice
1/4 tsp (1 mL) salt
1/4 tsp (1 mL) black pepper
1/3 cup (80 mL) chopped parsley
1/4 cup (60 mL) crumbled feta cheese (optional)
2 Tbsp (30 mL) unsalted pistachios
Directions
Heat 2 Tbsp (30 mL) grapeseed oil in skillet over medium heat. Add shallots, reduce heat to medium-low, and cook, stirring often, until darkened, about 15 minutes. Remove shallots from pan and place on paper towel-lined plate or cutting board to cool.
Preheat oven to 400 F (200 C) and line baking sheet with parchment paper. Toss asparagus with 2 tsp (10 mL) grapeseed oil and a couple pinches of salt. Place on baking sheet and sprinkle on garlic. Roast for 10 minutes—more or less, depending on how thick spears are—until asparagus are lightly browned and tender.
Cook edamame in medium saucepan of boiling salted water until tender, about 4 minutes. Remove using slotted spoon and set aside. Return water in saucepan to a boil; add peas and cook until just tender, about 3 minutes (do not cook frozen peas). Whisk together olive or camelina oil, lemon juice, salt, and black pepper.
To serve, place asparagus, edamame, peas, and parsley on serving platter. Drizzle on dressing and then top with feta (if using), pistachios, and shallots.
Each serving contains:
317 calories; 14 g protein; 22 g total fat (3 g sat. fat, 0 g trans fat); 20 g total carbohydrates (5 g sugars, 7 g fibre); 189 mg sodium